You Knew Her When: An Aspiring Symphonist In Our Own Halls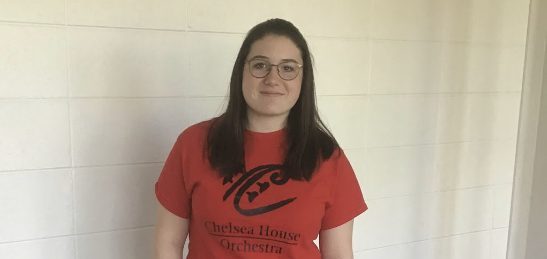 Makenna Ford ('21) arrives at school in the darkness of 5 a.m., and despite being a teenager, she loves it. She doesn't come here for homework or because she's required to for class. She shows up that early because she's passionate about what she comes in to work on.
Ford's passion is for music, and she has focused almost her whole life on it.
"I like working on stuff that most people think is difficult," Ford said. "For me, practicing and rehearsals, and especially performing is the best part of my life."
She takes her practicing schedule very seriously, and works outside of school with band director Mr. Rick Catherman.
"He helps me out a lot with practicing," Ford said. "We've made plan. I get here in the morning, and I just hammer out some music stuff." 
While it takes a lot of dedication to get where she is now, this devotion is paying off for Mackenna. She has many awesome opportunities this year. She's played in the Detroit Symphony and performed in The Nutcracker.
"I'm playing principal bassoon so like the first part, and sitting next to the principal bassoonist of the Detroit Symphony," Ford said. "So that's a pretty big deal. I'm so excited."
While talking about the performance, the excitement and gratitude Ford felt for such a huge opportunity was clear on her face. Makenna commits herself to a multitude of other musical activities, such as Chelsea House Orchestra (CHO), Jazz Band, and All State competitions. With all the work she puts in, it's no surprise Ford intends to make a career out of this passion. She will be attending the Interlochen Arts Academy next fall. This is a specialized high school for students with an interest in the arts. Interlochen will give Makenna more time to dedicate to music.
"It has less requirements for graduation, academically," she said. "School hours will be from 8:30am to noon, and music hours are from 1 p.m. to 6:30 p.m. That's not including outside practice time that I'll take just like I do in the morning. The majority of my day will be focused around music."
Not only will the majority of her day focus on music, but if all goes according to plan, the majority of her life will. She is looking at Julliard School or Curtis Institute of Music for college.
"They have the best supporting music programs," Ford said. "Because they're not universities, so they're not required to teach you the basics and stuff, although they do offer academic classes there. It's not necessary. I don't have to take them. My whole life will be focused around music."
Ford wants to ride that wave all the way to the New York Philharmonic or the Chicago Symphony. She wants big things from her career, and these two symphonies are considered by most to be the best in the country. Ford has the skill and devotion to get there. She has the next five years of her life planned out, and she is very grateful to have discovered this passion.
"Gosh, I just know I'm so fortunate," Ford said. "I don't have to go through the stress of figuring out what I want to do with the rest of my life, because it just seems obvious to me. I was given something that I'm so good at, and all I have to do is work towards it."