Tips and Tricks for Another Michigan Winter
Winter is right around the corner, and we all must start to prepare. The following are things that teens need to consider as the snow comes. 
Safe Driving
Winter driving in Michigan is the most dangerous driving of the year, especially for teens. 
"Make sure you stay multiple car lengths away and takes turns very slow," Sydney Collins ('20) said. Sydney Collins had a crash last year because the snow and ice. Now, she drives safer and knows what to do now and hopes that no one will be in her same situation.
I-94 was the worst road for driving in terms of fatalities with 15, followed by 12 on I-75, 11 on I-96 and seven on US-31 and US-41, according to Fox 17. Chelsea is on I-94, which means when your on the highway, be more careful. It also mentioned 12 fatalities on I-75, 11 on I-96 and 7 on US-31 and US-41.
Right Gear 
Make sure your children wear long underwear on particularly chilly days. Purchase waterproof pants and jackets to keep your children's underlying layers of clothing dry during snowy weather. Don't let your children go outside without warm gloves, socks, boots and a hat, according to Check Up Newsroom. 
"In the winter I wear a down jacket and a windbreaker over that the down jacket for insolation and the windbreaker is for the wind and rain," Lily Claus ('20) said. 
Time outside  
According to Business Insider, a temperature of 0°F and a wind speed of 15 mph creates a wind chill temperature of -19°F. Under these conditions frostbite can occur in just 30 minutes. In some areas of the Northern Plains and Upper Midwest, wind chill reached below negative 60 degrees, according to the NWS, when exposed skin can freeze in just freeze in 10 minutes.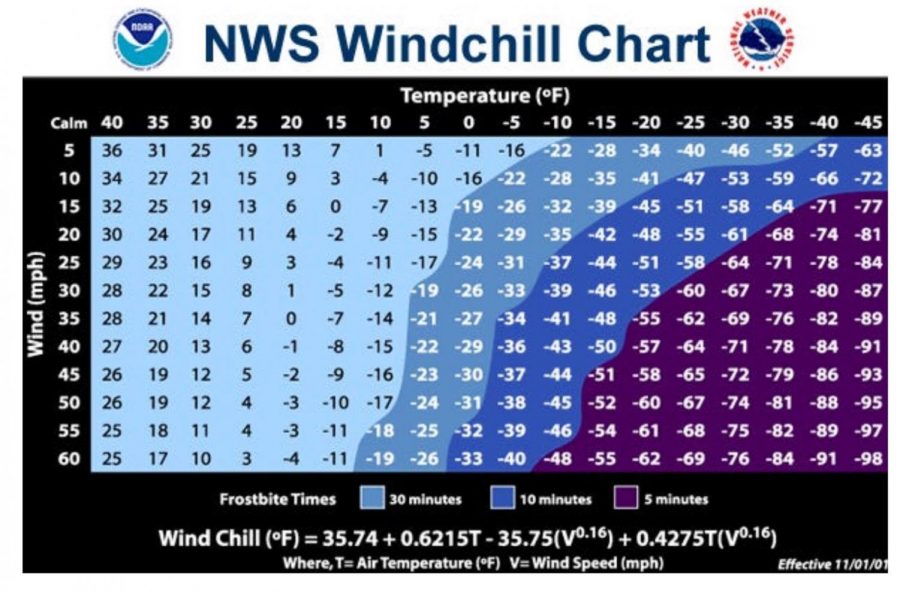 Car Safety
Car safety in the winter is extremely important. Having the right equipment is a big part of that. There are a few things all drivers should keep in your car during the winter, and now is the perfect time to gather your supplies before the snow starts falling. 
"A snow and ice scraper is easily the most used tool for drivers during the winter," Business Insider reports. "Keeping one handy will allow you to efficiently clear off your windows and lights before driving, instead of resorting to using your hands."
On top of just a scraper, it is also suggested that you have a compatible shovel to use in case you get stuck and have to dig yourself free. Cat litter also is helpful in getting your car free from a snow bank since sprinkling it under your tires gives them more traction. Make sure you have a pair of boots in the car in case you need them. You don't want to have to dig yourself out of a snow bank in your nice shoes. 
Another important part of driving safely in the winter is making sure you have the best field of vision as you can; a big part of this is leaving plenty of time to defrost your windows completely. 
Mr. Matt Pedlow, who has experienced an accident due to limited vision, said it's important to defrost your windows so "students have access to full vision" Pedlow continue "We worry about you kids driving."
Health
Your health is also important to make sure you keep in mind in the winter. The harsh winter air leads to chapped lips, dry skin, a sore throat, and the flu spreading. Make sure you are using hand sanitizer and washing your hands often. Carrying a pack of tissues and some cough drops is also helpful. But, of course, the easiest way to stay healthy is getting your flu shot. 
"A flu shot introduces your immune system to the virus and teaches your body to attack it," Maegan Ford ('20), who's mom is a nurse, said. 
The flu shot is extremely effective. It keeps you healthy during the vulnerable winter when the flu is most likely to strike.
"It's important for everyone to get a flu shot because you're not just protecting yourself from getting the flu, but people with weak immune systems that aren't able to get shots and rely on others immunity," Ford said. 
The flu shot is important for everyone to get, so get out and get that shot! And while your at it, get some extra vitamin D. Because sunlight is limited in the winter, another important health concern is a vitamin D deficiency. Keeping your health in mind is important, especially during the winter. 
Common Courtesy
Common courtesy is also important to consider as we enter winter. If you live in town with a sidewalk, making sure that sidewalk is walkable is extremely important. Students walking to school greatly appreciate a clear path to school. 
Sarah Zeller ('21) who walks to school agrees that people shoveling their sidewalk and putting down ice is helpful. "If there's a little snow, or the ice that's visible, it's okay," Zeller said. "As long as I can see where stuff is."
Taking care of your sidewalk is a common courtesy to those who use it, and it's an important one. According to Power Blanket, 1 million injuries occur because of falls on sidewalks. This number will be lessened with safe sidewalks, so everyone do your part!