Sophomore Swimmer Makes History, Qualifies for State Events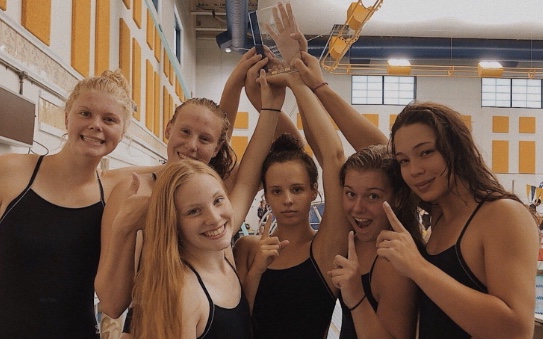 Bella Turner ('22) is the first non-senior swimmer in school history to make state cut for all individual events and 11 events in total. She hit all the times on her individual events on her first attempt.
Turner has been swimming for almost as long as she has been walking, and has put in a ton of time and hard work in her 11 years of flourishing in the pool. She puts in hours at the pool all year round, and her only break from swimming is during water polo season. Even then, she still spends countless hours in the pool.
"The amount of time I have spent in the pool the past year has definitely contributed to my success, especially this summer," she said. "This summer, I was training four hours daily and in the weight room often. This season has easily been my favorite season, because it's been really rewarding, and it's shown that I have worked really hard."
Out of all of her races she qualified for states in, the one that stands out the most to her is when she swam the 200 freestyle at the third biggest meet of the season.
"I ended up dropping a lot of time in an attempt of going for the school record," she said. "That 1st place stood out against the others because of how much I won it by."
The race she was most nervous for was the 100 butterfly. She said she practiced all week leading up to the meet she swam it.
"I was the most nervous for the 100 butterfly because it is my worst event," Turner said. "After practicing that stroke a bunch earlier in the week, seeing my time at the end of that race was such a gratifying moment."
Bella explained that before those races, and all her other races, she completes a specific pre-race ritual.
"In order to have a good race, I have to focus on the race practically all day, and then right before the race starts, I have to have extreme focus," she explained. "There's a particular type of jump I do before my races. I start with a big jump, then my jump's get smaller and smaller. I am known for doing it before every race, and my best races have been the jumps with the most confidence and enthusiasm."
Though Bella has achieved so much, she humbly pushed a lot of credit to her teammates.
"I just want to acknowledge and thank my team," she said. "They are my biggest motivation, my friends, and my family. I couldn't have done it without them. They push me in practice so much, especially my state crew. Some of my greatest friendships were formed from swimming. For example, Alexis Nelson ('20), a record holder, has always pushed me all 11 years of swimming. Her and my other teammates are great."
In her last two meets of the season, Bella hopes to break the school record in the 200 and 100 freestyle events and in one of her relays. She thinks she will swim in all freestyle events at the state meet and would like to come in the top five in the events she ends up swimming. You can come support the full team in their last meet of the season today, where they will swim against all the teams in the SEC at the Dexter pool. Bella and her teammates Olivia Olk ('20), Abby Robbins ('20), Olivia Prodin ('20), Alexis Nelson, and Kauri Fields ('20) would appreciate your support as they compete at the state meet in Holland on Nov. 22 and 23.
"I'm really excited for the rest of the season," Bella exclaimed.  "We have big meets coming and we're all very prepared. The team we have this year is the best swim and dive team we've ever had in Chelsea history. I expect a lot from this team. We are capable of so much."