Southfield School Visits to Build Student Connections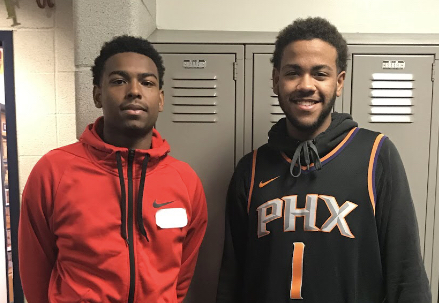 Southfield High School for the Arts and Technology students visited Chelsea yesterday to build cross-community connections between the schools and students. Varsity athletes were paired up with Southfield students and gave them a tour of the school and the culture at Chelsea.
"Overall, it was amazing," Jessica Emmert ('21) said. "We were very open, and all in the classes we went to my teachers welcomed the students and talked to them. It wasn't like they were aliens in our school."
All of the Chelsea students made an effort to make Southfield students feel as welcome as possible.
"Yeah, we were all very friendly," Joe Taylor ('21) said. "I felt like everyone was excited to see these different faces and show them around the school."
Despite having just met and the different places they were from, students quickly found similarities with the guests.
"It was interesting because we talked about their school and what their classes look like, and it was a lot more similar than I thought it would be," Riley Davis ('20) said. "My partner was joking around with the teachers and really naturally fit into the schedule and things we do at Chelsea."
Having seen the way everyone interacted and the fun the students had, the students feel it was a really impactful and important event for them to participate in.
"I think it's super beneficial," Emmert said. "Obviously in Chelsea we're not as diverse as we should be, but it didn't matter once they got here because they were just other students, and we need that reminder and we need to meet new people. We may be a small town, but we should do our best to welcome others."
Because of how well the visit to CHS went, students are just as excited to visit Southfield later in February.
"I didn't really know what to expect but I think I definitely got a lot out of it," Olivia Olk ('20) said. "I'm excited to be able to go to their school and get a totally different experience come February."