Link From a Freshman's Eyes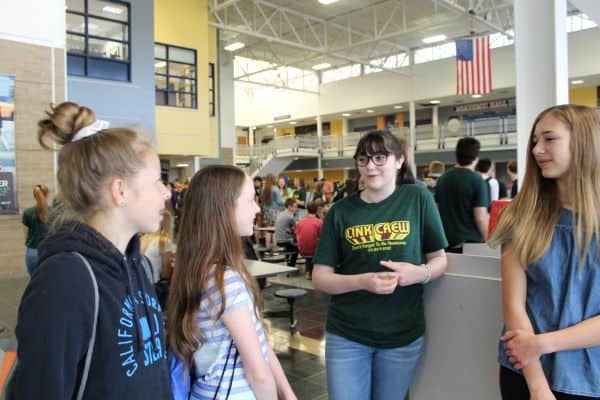 Transitioning from middle school to high school can be intimidating. Finding classes, getting grades that matter and the classic "Back to Beach" chant that initiates newcomers to the school are all things freshmen expect. Making new friends is also a common source of anxiety. Luckily, as we freshmen entered CHS on the first day, with excitement, nerves, and exhaustion, we saw some familiar faces. Lined up in their green shirts, Link Leaders stood with copies of our new schedules.
Link Crew is made up of juniors and seniors who are dedicated to making the transition from middle school to high school easier. In preparation for the new school year, incoming freshmen attended an orientation full of games and conversation about high school. It was here we learned who our Link Leaders were and which freshmen were in our Link group. Some saw old friends, new faces, and some people we simply haven't talked to in a while. It was nice for me to meet some of the newer kids to Chelsea that I didn't recognize.
While learning about my Link Leaders, I found out that we share some similar interests. This helped me see them as real people who were passionate about things too. I think freshmen sometimes alienate themselves from the upperclassmen because we don't know much about them, which creates a barrier between students. Finding things in common with my Link Leaders helped take down that wall and allowed me to see them as people who were there to help us.
Link Crew and the middle school's WEB program share many similarities despite WEB being for students three to four years younger. In WEB, 8th graders help new 6th graders who are moving up to middle school. Link Crew and WEB share similar activities and intentions (and in both we got suckers). In addition to receiving candy and playing games, we were introduced to the next couple of years of our lives. Because of Link Crew, we have some experienced students that can help us navigate the new experiences and responsibilities of high school. 
Link Crew helped me plan my future and set goals as well. I had always been interested in taking on the role of a leader and helping people through things I've already experienced. After seeing what Link Crew does and how they connect to us freshmen, I am excited to pursue my leadership interests in the next few years. I am also looking at extracurriculars to enrich my time at CHS. Seeing my Link Leaders in sports, clubs, and extracurriculars has definitely made me more comfortable transitioning into high school and excited to try new things. 
I feel that freshmen might take these leaders for granted sometimes. We look past the fact that they volunteered to help us. They answered our questions and made us feel good about the move to a new school. They were in our position not long ago, and they understand what we are getting accustomed to. 
Yes, sometimes it might feel like they aren't around as much after the first day of school. Yes, we might be a little too prideful to ask for help. But at the end of the day, they are there for us regardless. Whether we talk to them or not, they are there, and that is all that matters.