Girls Water Polo Easily Take on Guys Distance Team in an After-Season Game
The girls water polo team beat the boys distance track squad in a game of water polo last week 12-5.
Caught in conversation with girls water polo players while administering exams, coach and teacher Mr. Swager challenged his distance guys to take on the girls water polo team in a real game. He even challenged the coach to get in and play as well.
The polo team ended their season earlier this month with a record of 4-9. Dakota Drew ('21) said that it was good to get back together with her teammates and play again after a few weeks of being done for the season.
"Seeing my teammates after season was amazing," she said. "It brought back old season memories, and it allowed us to pick on each other for another day. It also made me realize how much I missed waterpolo season altogether."
For the guys distance team, this game served as afterschool cross-training, as they are still in season. Of the distance squad, four of the players are swimmers and two of those four are on the boys water polo team.
Dominik Green (20), a distance runner and swimmer, explained that water polo is a lot different than swimming.
"I did like the game because it was with the runners, but the sport itself isn't really my thing," he said. "Even though it's a water sport, the atmosphere for polo is way different than the one I'm used to in swimming. But nothing really felt out of place, especially since the guys I run with are also some of my best friends."
Being experienced water polo players, Drew and her teammates thought some of the things the guys did on most of their first time playing water polo were "absolutely hilarious." She said it seemed most of the guys were not very sure on what to do, and few of their moves were allowed in the real sport.
"We gave the distance runner's goalie a foam helmet," she said. "Swager was also very funny because he didn't understand restarts after a goal, so he would try and score before we had even restarted the game. Most of the goals the runners scored would not have been goals in an actual game, [only] one of them was for sure."
Drew also mentioned this was a unique experience for the polo team because they got opportunities to play in different positions and they got to compete with their coach on their side.
"Fayth Frazier (20), our goalie, ended up playing in field for part of the game scoring one or two goals herself," she said. "During most of the periods when our coach played, it seemed that [the goalie's] only goal was not to be hit with the ball."
Water polo season may be over, but many distance guys will be competing at the state track meet this Saturday at Zeeland and would love your support as they compete in their last meet of the year.
Though the guys distance squad loves running, they also enjoy trying new things. Green said his favorite part of the whole experience was that he got to try something new with his teammates.
"My favorite part was to see the whole team trying something new with smiles on their faces," Green said. "That's how good, lasting memories are made which are one of the most valuable things in life in my opinion. This was pretty much a whole new experience for me and I was glad to share it with distance dudes."
About the Contributor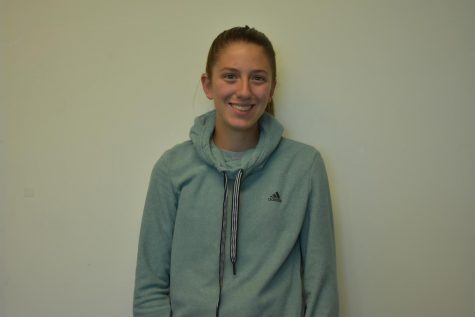 Natalie Davies, Bleu Print Staff
Natalie Davies is a senior at Chelsea High School. This is her third year with the Bleu Print. Outside of writing and editing, she enjoys running, reading,...