Robotics Begins Competition Season
The Chelsea Robotics Team, Team 1502 the Technical Difficulties, has put many hours into creating their robot this build season and will participate in their first competition tomorrow.
The team is made up of student members from all grade levels here at CHS. During their seven week build season, the team held 4 hour meetings about three nights a week and met on Saturdays for 6-8 hours to plan, program, CAD, and build their robot.
At the end of build season, robotics teams have to bag and not work on their robots until a specified 6 hour period prior to their first competition. Riley Thorburn, a sophomore and first-year member of the team, said that now build season is over, it's strange not spending so much time at practice working on their competition robot.
"It's really weird not going to practice and having the competition robot to work on, but we still have our demo bot that needs work, so we'll put some time into that now. We need it to practice our driving," Riley said.
As Riley explained, though the team has nearly finished their competition robot, the team is still working on a demo bot. Riley said that in the preseason, the demo bot is for showing people what robotics is all about, and during competition season, the team modifies it as a second robot to be used to gain experience driving.
In a competition, three teams chose to be in alliances together, and the alliances are proposed and announced to everyone at the competition. Each year, the challenges the robots compete in change based on the theme. This year the theme is "Deep Space," and the goal is to attach the most hatch containers or balls onto your team's side of the playing area. The robots on one side of an alliance work together to gather the cargo (rubber balls) that are supposed to represent cargo holds or samples from another planet. There are some cargo holds on flat ground and other ones that are more challenging to obtain because they are higher off the ground on rockets.
In order to move on to regional and state levels teams need as many points as they can get. Teams get points from not only winning matches, but also from winning things like Chairman's awards, creativity of designs, or creating safety videos.
Even though teams can't work on their robot while it is bagged, teams are still allowed to still get together, strategize, scout out other teams they would like to form alliances with, and work on videos to gain extra points.
To get ready to compete, Chelsea Robotics has put in many hours at practice and has organized their team into smaller teams to "divide and conquer" all that needs to get done. Cade Trernagel, a sophomore who has been on the team for two years, explained that this year the team has organized into specific groups like CAD, Controls, and Programming.
"It's very different than last year," Cade said. "Last year we had a standard organization where the seniors had priority over all the other people on the team, and they basically told [the underclassman] what to do. So, this year we're doing a new organization system in which we're putting ourselves in different categories based on experience. I think that's a lot better in terms of organization, because we can have, let's say a person who's really good at CADing work on CAD, and another person with a different passion actually working on what they want to work on."
Though they break their team into smaller teams, Riley explained that that she has learned a lot of new things from outside her smaller team, and that the teams are interconnected in the way that they have to work together to put the robot together the best way it can be.
"It's really taught me a lot about the engineering design process," Riley said. "It's a pretty useful club if you're at all interested in engineering. It's good to get a background in robotics while also getting familiar with a lot of the tools that you don't have access to in tech classes. During build season, I was using power tools I've never heard of before and I'm not even on the build team. It's super fluid if you want to go into a different team. I'm on controls but if they need help with something with building I can easily help with it. There's always some way you can contribute."
Riley also stated that the teams depend on each other and Cade said that they all check in with each other at every meeting to make sure they are "on the right track and everyone knows where we're at."
"When you are mechanically designing a robot you have to be mindful of where things go," Riley said. "For example, you have to plan where the electronics will go and where the pneumatics will go. You have to work together to plan that, and the groups have to talk to each other. CAD has to talk to building, building has to talk to us [in controls], we have to talk to programming, and etc. You can't just be a hermit and stick to your own team."
Cade emphasized that this system is good for people of different skill levels because it allows room for new and less experienced members to learn from members who have more knowledge from their experience. He added that by working together towards finishing their robot, they learn a lot more and get a lot more done than they could have by themselves. He also mentioned that they use resources like tutorials online to help them find out things they are not sure on.
"Sometimes people are really good at robotics, but that doesn't mean that everyone has to bow down to that person," he said. "We're going towards a method were everyone can do all the things at their own pace. Just because someone's good at something, it doesn't mean they are necessarily better than you. You want to learn from each other and that's the most important part of robotics. Learning from other people is very important. Even if you don't think you have people that you can necessarily learn from there are a lot of tutorials online."
Not only do team members learn from each other, but teams help out other teams. Recently more and more schools are starting up robotics programs, and Cade said that teams who have been around for longer, like Chelsea, travel to other schools to help rookie teams start up their first year of having a robotics program.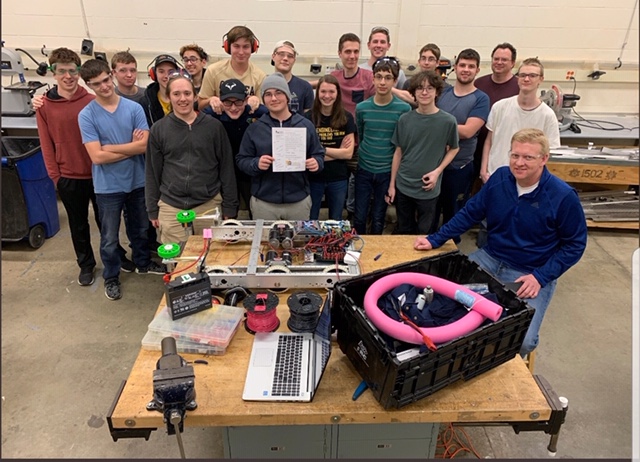 "We kind of get [the rookie teams] started on the programming and building of the robot," Cade said. "It's just the nice thing to do. Plus, if you help other teams in the community it's another thing you can put on Chairman's award [to possibly get points]."
The team has two head coaches, Stephan Eberle and Kirk Findlay, who help organize, get supplies for, and manage the team. They also get some help and advice from mentor engineers who are parents of kids on the team. She said that some schools are sponsored and have what seems like too much help from their mentors.
"It's important to remember that the mentors are not there to build it; they're there to guide us," Riley said. "Besides machining some parts, 100% of the robot is ours and not the mentors'."
Cade also mentioned that work goes on outside of practice. The team does things like scout out other teams to build alliances with and work on some programming while outside of practice by keeping in touch with each other online.
"It works well because we use technology to assess our progress," Cade said. "We use a website that organizes all of our cards and different projects together so everybody on the team knows [what each group is doing], even if they are not in the specific group they can still see what's going on. If they have spare time they can look through and suggest further stuff for them to do."
Riley explained that because the team spends so many hours together, the people really get to know each other well. She says she likes what she does on the team and enjoys spending time with her teammates.
"It's so much fun," she said. "I'm super glad I joined. You get to know the people in [robotics] super well because you have to spend so many hours together. Obviously the goal is not to waste too much time, but that's inevitably going to happen when you have so many hours to put in."
Cade agreed that he enjoys robotics and said he has a lot of fun with his teammates, especially when they are goofing off.
"My favorite part is definitely when people mess around," Cade said.
Riley mentioned that the team drinks "a lot" of Mountain Dew and pop, that the many hours of practice can be tiring, and that it's sometimes hard to balance homework, sports, and getting enough sleep.
"It's hard to maintain that balance during build season because you only have so much time, but I think my time management has definitely improved," Riley said. "Even though it's a lot of work, seeing the robot up and running makes all those hours worth it."