Artist Spotlight: Olivia Blissick, An Aspiring Art Teacher
There are many people who aspire to be professional artists and are hobbyists, but not as many with such skill and dedication as Olivia Blissick, especially as a high school student.  As a junior, she works to create exquisite pieces both inside and outside class.
"[I've been drawing] since as long as I can remember," Olivia said as she tried to track the beginning of her hobby. She prefers to work with pen and colored pencils, but may eventually branch out to ceramics and jewelry. Last year, she got several comic-style pieces into the Art Show.
"That was my first time trying to produce a comic, and… I want to do more of it, but I haven't gotten to it," Olivia said.  When asked about how she learned the skills, she explained that she goes to the yearly comic book club at Chelsea High School, and she got the idea to start there.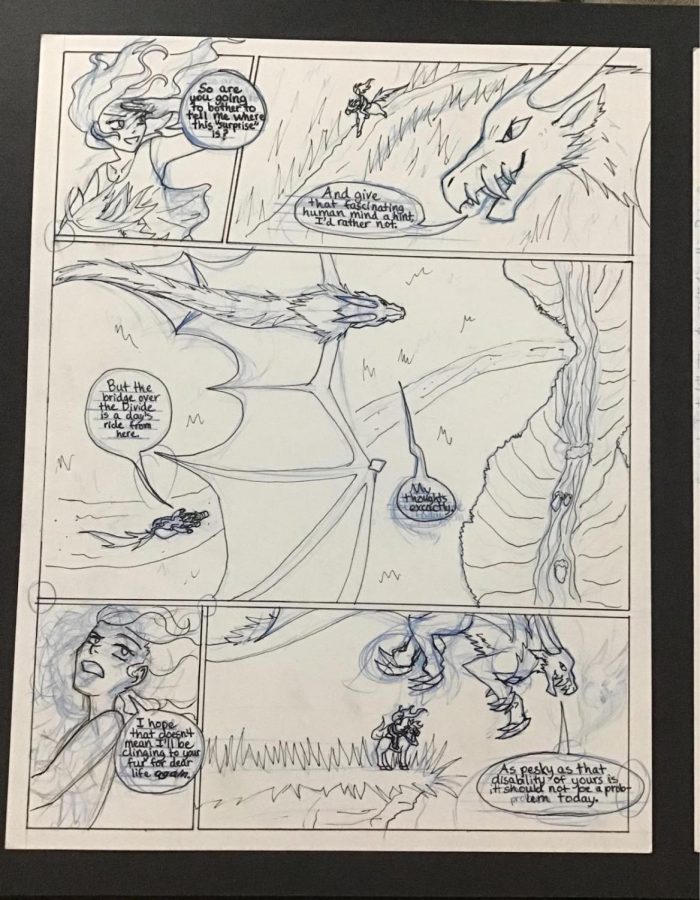 "It was about two characters I've been writing a story about for while, at least thinking about their story," she explained.  "So it's basically about Deviros and Natalia, and Deviros is this dragon god. They live in an alternate world that's not Earth, and Natalia is this girl who can see into the future." She went on the describe how the two find companionship as outsiders, being considered untrustworthy by others when they're good in reality. Olivia hopes to pursue it if she can, but she also has another goal in mind.
"I would like to become an art teacher," she expressed. "There are lots of areas I could improve in, and I really want to improve on learning how to teach people, because I can kind of do it, but it's hard for me to communicate how to draw to other people. It's hard for me to go back and forth between that."
Olivia isn't just recognized on a scale like the Art Show, either. Friends around her, like her younger sister Veronica Blissick and her friend Sarah Zeller, admire her work, too.
"I can totally see Olivia being an art teacher," said Sarah. She went on to compliment Olivia's art, which she's seen in class. "It's intricate and beautiful."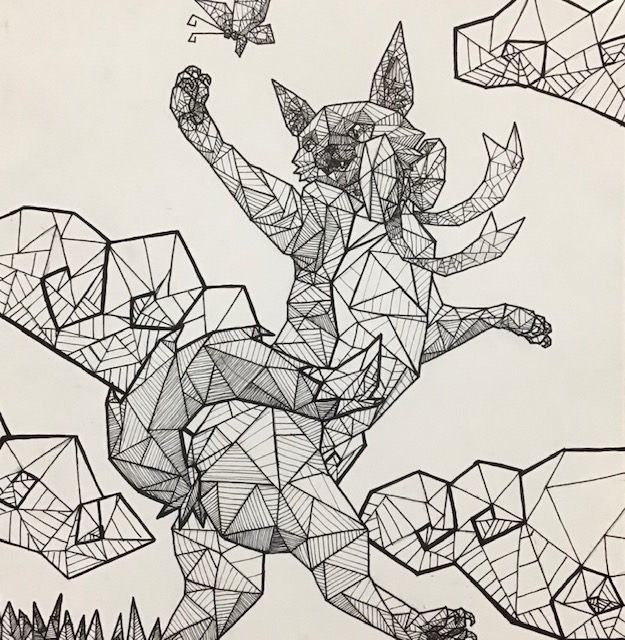 "Definitely my sister [inspires me]. Since we grew up together, she's a way better artist than me," said Veronica as she shaped a mug on the spinning wheel. She admitted to liking 3D art like sculpture and ceramics better, but that her sister was still a very big inspiration for when she did to 2D things like drawing or painting.
"[Olivia] is always doing doodles and sketches, and I'm always like 'oh, how does she do that?' Yeah, she inspires me," she continued. "She's such a good artist, and she deserves an art job just because she loves to do it."
She went on to describe Olivia's enthusiasm over the career possibility, and spoke on why art might mean so much to her and her sister.
"It's kind of relaxing. Not saying that art is easy, but just because it's kind of calming," Veronica said. "Like working with clay a lot, it's nice because you just mold it however you want and make something completely out of nothing, and you can do that with drawing too, just whatever you have in your head you can put into pages and art."