#WhyYouMatter Continues Spreading Its Message Outside the Chelsea Community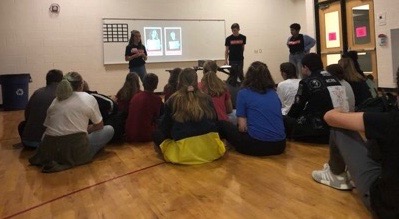 #WhyYouMatter is a suicide prevention project run by students and teachers at Chelsea High School. Two years ago #WhyYouMatter took pictures of every CHS student and staff holding up a sign with their "WhyYouMatter Statement" showing the community and others why we matter. It's a club that allows students of Chelsea High School and other places to know just how important the students of the future are to the world.
Recently, Chelsea High School's Why You Matter group went to a conference in Saline High School. This presentation was given to a leadership group at SHS. According to Bennett Proegler, who is a participant for Why You Matter, the presentation was given to "discuss what [the Why You Matter project] has done over the past two years with this group… and why it should continue for future years." The conference was successful, and it showed just how important and beneficial this campaign to the school and Chelsea community.
Coming up soon, according to Ms. Naar, Why You Matter will be heading to a program called "Peer-to-Peer Depression Awareness Campaign" at the University of Michigan Depression Center. Occurring all day on November 1st, this program will be providing information about depression and other mental illnesses and communication strategies for public health. The participants will then take part in activities to help create a similar campaign in other schools to raise awareness for mental health and reduce the stigma for mental illnesses in our communities.
With this new knowledge, the Why You Matter group will be able to help our school and community to understand these illnesses, and prevent the worst from happening.With more to come in the future, Chelsea will be surely see just how much Why You Matter can accomplish and add to our community. If a student is interested in becoming a part of the Why You Matter club, Ms. Naar is its advisor and is open to helping students get information about the club and what its plans are.