Special Olympians Deserve Support
"
"Let me win. But if I cannot win, let me be brave in the attempt." "
— Special Olympics Oath
Throughout the week, I have dedicated myself to interviewing and learning about some of the Chelsea High School Special Olympians! Tenisha Boyer, a bowler; Jason Federoff, a unified bocce player; Zak Cobb, a snow shoer, bowler and floor hockey player; Parker Doan, a basketball player, floor hockey player and flag football player; lastly, Elizabeth Kolman, a basketball player. I have also been interviewing and getting to know the Independence Hall teachers, Katy Fillion and Saundra Dunn, who are also the Special Olympic coaches. These Olympians and coaches are everyday students and teachers at our very own Chelsea High School. But why don't we know anything about Special Olympics and Independence Hall?
Let's start our interview session off with Tenisha Boyer. She will smile at you–and I assure you, it will brighten up your day. As a senior who moved here last year, she wanted support and secure and strong friendships. She is a funny and kind person to be around. Tenisha is a good sport and loves being a part of a loving and strong team, and she has been a part of the Special Olympics bowling team and Independence Hall class for two years. She enjoys the never-ending friendliness she gets from the teachers and from the students. She also likes meeting new people and making new friends. As I was interviewing her, she told me "I enjoy being with my friends, and the judgment free zone. I love being a part of a community where no one will judge me." She also enjoys going to the Special Olympics, specifically the Summer Games, which are held every year in the spring. "I love how Central Michigan University supports and awards us for our good sportsmanship and team effort!" Tenisha exclaimed. She talked to me about how she wishes the school would support the Independence Hall community like they do with any other school event. "I wish they would announce our sports during Announcements…" she said. As we wrapped up our interview, she wanted me to give out a word of encouragement to those learning about Independence Hall. "It is not about how you view people. You can't judge people on their differences. You have to accept them for who they are because everyone is perfect. "
For my second interview, I got the privilege of interviewing my friend Jason Federoff. He just might be the next Family Feud Host!! Jason has been a part of Independence Hall and Special Olympics for four years. Jason is a joyful Olympian to be around. He is a good friend and he always makes sure that his friends are okay and happy. Jason plays on the bowling team, snow shoes in the winter and is a part of a unified bocce ball team. Jason explained to me that Unified means that Independence Hall students and other Olympians come together and play as a team. I was quite intrigued when he explained this to me. Jason talked about how he felt to be a part of a team. "I feel I am a good athlete. I like being a part of a team, and I like having good sportsmanship," Jason said. He especially enjoyed talking about getting exercise and how it was good for him and others. Jason expressed his concerns about how Chelsea High School could improve on awareness of Special Olympics and Independence Hall. "I don't like that my friends don't come and cheer me on when I am at my games. I wish there could be fun things happening with the school," Jason said. I appreciated how Jason was smiling endlessly throughout this whole interview. He didn't frown once! Jason explained everything to me without problem and with such enthusiasm.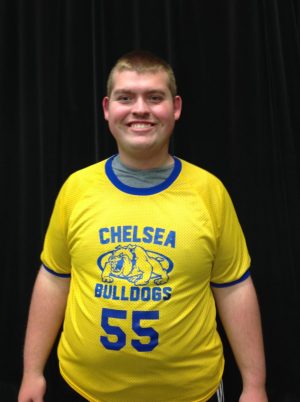 My third interview was with the amazing artist, Zak Cobb. Zak is a quiet and shy fellow who expresses his emotions through art. He also enjoys being in Independence Hall and participating in Special Olympics. Zak has been involved in Independence Hall for three years. He enjoys making friends and being in an environment where he doesn't get judged. As has Zak evolved in the Independence Hall program, has spent his time hanging with friends, exercising and doing the Special Olympics Summer Games. "I have been in Independence Hall and throughout my experience here in high school, I never have had CHS students come to Special Olympics events to support us like they do in "normal" sports," Zak explained quietly. "I wish our school could at least announce and acknowledge Independence Hall…" Zak expressed to me that just because other big sports–like football, for example–get made a huge deal, why can't we get the support, too. The last thing Zak wanted me to tell the Bleu Print is "Independence Hall students welcome all and are friendly–we are no different than any other student at CHS."
Prepare yourself CHS! You may know this Independence Hall student as a BIG Michigan Football fan, a golf lover! Ladies and gentlemen, the one and only, P-Dog!! Parker Doan has been in Independence Hall and Special Olympics for three years. He loves making friendly jokes, and also loves being a good sport–but is especially competitive! He plays flag football, floor hockey, and basketball with the Special Olympics crew. "I love the fun activities my friends and I do together," P-Dog said. "I just feel better with the extra support my teachers gives me," he said. I asked Parker how he felt about CHS and how they do not fully recognize Independence Hall and the Special Olympics programs. He felt strongly when he told me this: "I think we should be recognized, like the others," he said. "I wish my friends were there to watch and support me at my games," P-Dog said quietly. Parker is a joy to talk to. As we were wrapping up his interview, Parker told me to tell CHS this: "I wish we could believe in each other as we should ourselves," said Parker. "We are all friends in this school, don't forget that!" he said smiling. "And oh yeah, Go Blue!"
Lastly for my student interviews, I talked to Elizabeth Kolman. Liz is a bright and cheerful friend that everyone loves to be around. Along with being in the band, Elizabeth has been in Independence Hall since she came to high school. Liz plays flag football, basketball, and floor hockey. She is a first year Special Olympian. "I loved it from the start of the first practice," she said. "I love being a leader and playing as a team on Special Olympics," She said excitedly. Elizabeth and I were chatting about how Independence Hall is filled with kind and understanding students and teachers, and is a judgment-free zone. "I love how when we go to competitions, that there is such good sportsmanship and medals for everyone, even if we don't win!" Liz said. This community is really wonderful. Elizabeth and the rest of the Independence Hall students want their voices to be heard.Liz expressed this to me: "I was also wondering why the school does not support us like other sports," she said. "It would be nice to have CHS students see what we can do."
For the interviews for the Special Olympian coaches and beloved Independence Hall teachers, I spoke to Katy Fillion and Saundra Dunn. To start off, I interviewed Katy Fillion. As I was interviewing Katy, her background story on what made her want to teach in Independence hall was very inspiring. Katy has been teaching Independence Hall students for sixteen years. This was her first job out of college. Mrs. Fillion will probably blow your minds when it comes to Halloween! Every Halloween, Katy and her husband put together a terrifying and extravagant haunted house. People from all over come and pay to attend, and are asked to bring canned goods for those in need. Katy is a creative and fun teacher who loves to make people feel happy. She always puts others first and teaches her students how to be successful. As we continued chatting, she explained to me about her dream job. "In high school, I took a psychology class," she said. "I became very interested when a alumni graduate came into my class and was talking about children with disabilities and autism," she explained. As Katy spoke, I could tell how passionate she felt for her career. "Ever since then, it changed my life. I knew what I wanted to do," Katy says. "I wanted to learn about kids with disabilities." We continued discussing about how Chelsea High School should improve awareness and support regarding Independence Hall. "I agree with how the school should do a better job making students aware," Katy said. "But at the same time, I feel I should do a better job sharing and spreading awareness," she explained. As we were wrapping up the interview, I asked Katy how she would describe her classroom and her students. "It's a pretty cool place," Katy explained. "I feel the students have unique talents and I feel my students are good people to know."
My last Independence Hall teacher and Special Olympian coach I interviewed is the one and only Saundra Dunn! But watch out! If she catches you wearing matching colors or color coordinated outfits, she might just snag you for a photo or two! Saundra is a wonderful and loving teacher who will do anything in her power to help. She owns and runs Along the Fence Daylily Farm and genetically creates her own flowers. But most of all, Saundra is a Independence Hall teacher and Special Olympian coach. She coaches bocce ball, basketball and floor hockey. Saundra received her Educational Specialist degree from Michigan State University in 1989. She is dedicated to and has been working and teaching with kids with disabilities for a total of twenty nine years. As we were interviewing, Saundra expressed that her philosophy on life is this: "Kindness matters! Help people recognize their own successes."
We have been educated and informed about these Independence Hall students and teachers. We have been enlightened about how these teachers and students really feel. If you want to learn more and support Special Olympics and Independence Hall, this is only just the snapshot of the wonderful students and teachers who make up our community! Come and visit Independence Hall! Allow yourself to come and support Special Olympics! Be apart of the judgment-free community! We would love to see you and take you on a tour. And always remember this: "Let me win. But if I cannot win, let me be brave in the attempt."