Robotics: Chelsea's Own Tech Boom
On the outside, robotics may seem like a small group of tight-knit nerds that spend weeks clustered in a room full of metal shaving and Mountain Dew. However, once you get a closer look at the networking of the team, you'll start to notice that robotics stems to every school and every grade level in Chelsea. You'll find that 1:6 students in elementary school are enrolled in a robotics team after school. You'll see that in 2017-2018, robotics was the single biggest club at Beach Middle School. You will also discover that every age group has students that mentor and teach the younger grades. From kindergarten through 12th grade, Chelsea now offers an in-depth look at the math, science, and camaraderie that symbolizes a robotics team.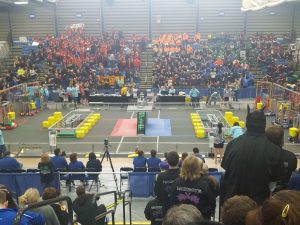 In the past two years, robotics has boomed in Chelsea. We have gone from having one team at the high school, comprised of roughly 30 students, to over 15 teams around the school district! I can't help but wonder what else will change for the robotics teams in the future.
This change of pace has also been seen in the classrooms around the district. In classes like 8th grade Technology, Mr. Boos has added a whole new unit all about programming and coding both for robots and for websites/apps/games. We are starting to see a big boom in technological advancements inside the classroom as students as young as kindergarten are starting to use iPads and learning about patterns and cycles in programming.
This summer, the robotics team at the high school and the teams across the school district will be participating in local events such as the start of summer kickoff at the library and the summer parade. For more information about all the teams, you can go to chelsearobotics.org