School Store No More?
Have you noticed that the school store, located in the commons, has been closed through the start of the 2017-2018 school year? Due to the lack of sales in recent years, the store has remained desolate since the start of summer. With the cost of maintaining and stocking the room rising and sales falling, it is obvious to onlookers that something needs to change.
To find out more behind the mystery, we talked to Mr. Kapolka, principal of Chelsea High School, about the future of the room. "As of right now, it's a work in progress," Kapolka said, "We want to make it a sustainable place for kids and teachers."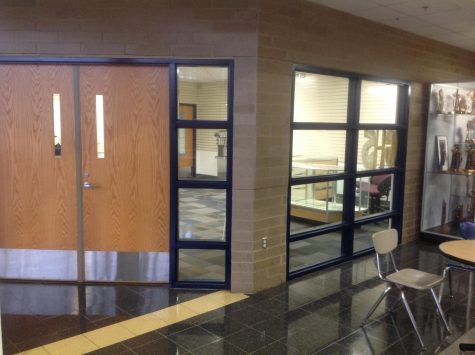 While there have been several suggestions throughout the design process, there are two main ideas in the works. One option is to transform the area into a cyber café with couches and snacks for teachers and students alike to hang out in the morning and during lunch. The other is to create a space for the marketing class to sell goods in order to learn about effective and ineffective marketing strategies.
When asked about funding the new room, Kapolka stated, "We have some money set aside if we want to do furniture." If the room flipping is as intensive as Mr. Kapolka says it is, the project could take about a year to ensure that any redesigning is done correctly.
While most students get their school apparel from band, sports, and their other extracurriculars, leaving the store with little customers, there are students who do not have that option. For the students who need to get their Bulldog spirit on, Kapolka mentioned a possibility for the marketing class to create an online sale of apparel through a third party once per trimester. This option would leave the room empty and free to use for another project.
To learn about the possibility of a cyber café coming to the school, we talked to Mr. Scheese, head of the school store. One of his ideas is a "snack'n'go" area, which could sell breakfast in the morning and other convenient snacks throughout the day. This would not take away from the current cafeteria options, but instead it would be an alternative for people who want to get a snack or a drink, rather than a whole meal from the lunch line. Some snack options would be frozen yogurt with toppings, chips, hot pretzels, drinks, cookies, and possibly candy.
In addition to new food, Mr. Scheese wants to work side by side with the Chelsea Art Department to have murals painted inside the room and on the outside walls to attract customers and highlight the changes in the store.
The room's future is still up in the air and is subject to change as the redesign is being planned. If you have any ideas for what you would like to see in the new store, let us know in the comments below!