Ready. Set. Robot!
Chelsea's robotics organization has grown monumentally over the past couple of years. The robotics program nurtures and develops students to use their creativity and problem-solving skills on a community level. This season has had one of the largest teams CHS has ever seen; making for a great learning environment!
"This year we had one of the biggest teams we've ever had with 46 people but half of these people were freshmen which made it more challenging," Senior Logan Dever said. "Michigan has more robotics teams than anywhere else in the world and it's a lot more competitive here. There are 600 teams here in Michigan."
The CHS robotics team has a competitive season each year while fulfilling their reputation of being an in-school and community-driven organization.
"[Our] 'First Robotics' motto is more than [just] first," Junior Lily VanHevel said. "We try to live up to more than just 'build robots'. We [want to] help others and become better people."
Challenges given to groups around the world are different every year and increasingly difficult. At CHS, the student-led group comes together and plans out their plans for a successful season.
"We get the challenge in the first week of January and then this gives us 7 weeks to build a program, prototype, test, and practice with the robot," Dever said. This year the theme was placing cones and cubes on a grid. It was really difficult because the highest was 5 feet in the air and 2 feet over and you can't get too close because there are a lot of barriers so it involves a lot of trigonometry which made it more challenging."
With a growing team and a season in the works, lessons about teamwork and team bonding have been very informative for newer members. The student leadership team ran into bumps along the way, but was able to have an extremely precious season. 
"This was a very valuable learning year for us with the addition of so many people that had never been involved with robotics before," VanHevel said. "We learned how to deal with a larger group and how to teach people while still making progress."
As any teammate knows, sometimes things don't always go to plan. This year, the robotics team has pushed themselves to accomplish harder projects. Through this they have learned what they can do in the future to meet the competition head on next year.
"I think this year we bit off more than we could chew because our design was really complex and it involved a lot of programming," Dever said. "I think if we went with a simpler design that wasn't as challenging for all the new members it would have done better in our competitions."
The unique opportunity that the CHS Robotics team has, is the support within the Chelsea community. The encouragement they have received, and the success they have had, is solely supported based on the support from the Chelsea community and families involved with the robotics program.
"We won an award at the second event this season: The Engineering Inspiration Award which is the second most prestigious award there is," Dever said. "It's based on our impact on the community and the school because the robotics program has grown so much over the past couple of years it's the single largest organization in the Chelsea School District."
The team is ever-growing, and is learning more and more each season. They emphasize growth, development, and advancement. The people involved in the program have made an exciting impact on the Chelsea atmosphere.
"My advice to people who want to join robotics, or [who] are freshmen on the team, is to step up," Dever said. "You're important to the team and we need you because we need the team to survive for the future."
"This year everyone was working together really well," Dever said. "The collaboration at every level was great and everyone was always working on something which made the progress better."
Leave a Comment
About the Contributor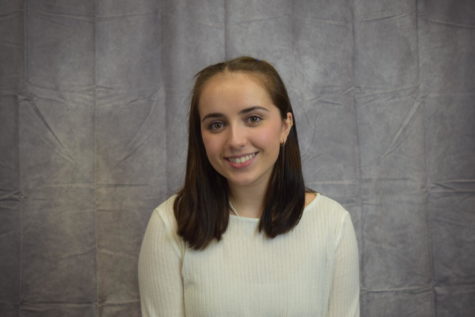 Brooklyn Nichols, Dept. Chair
Brooklyn is a senior at CHS, and this is her first year as Department Chair for feature stories. Outside of writing for the Bleu Print, she enjoys dancing...