Musicians Practice, Teachers Fine-Tune
The best musicians are the ones who have had the best teachers. If students didn't have such strong role models to help guide them to their goals how would we ever reach them? 
Students learn, understand, and work hard to succeed in their classes. However, Chelsea music teachers don't get enough credit for how much they help students grow in the arts and succeed in their music careers.
"[Band teacher] Mrs. Roberts has been important to me because she wants to help me get better by giving me opportunities outside of class like jazz band and Solo and Ensemble," Edwin Greenleaf ('25) said.
Helping students in and out of the classroom allows students to exceed the average and become spectacular musicians. Chelsea's music teachers do more than just teach, they create a fun and safe environment where students can enjoy their time playing their instruments or singing in the choir.
"I've been in choir pretty much my entire life," Bella Cubberly ('25) said. "Choir teacher Aaron Pollard has been the most influential person in my music career. He's always been able to run a fun, but also very effective, class period. All while also encouraging the students during practice. He also has a very bright spirit which makes learning the music a lot more fun." 
Great teachers are so important because, with their help, students can reach their full potential and love the music environment they are given in the classroom.
"I've been in band since fifth grade, and I've been playing the horn since fifth grade," Rowan Anderson ('24) said. "The main reason that I got into music and I love it so much is because of my elementary music teacher. She's the best teacher ever. She's been nominated for a bunch of awards. She was and is super cool, so she really got me into music and I've been trying to pursue it for a long time."
Not only do music teachers help students learn and succeed, but they also help the whole group to be the best they can be and push their students to achieve interesting and special things. Even before taking things to the next step in college, students in the CHS music department have the opportunity to show off their talents and compete. 
"We had our solo and ensemble performance a little while ago," Joseph Gregory ('24) said. "A person does a solo or group performance in front of one judge and then gets a total score out of it. That recently happened at Livonia and whoever got a one, which is the best you could get, has a chance to go to states." 
Although some teachers may not know the strong impact they have on kids, their smiles and ability to make music entertaining leaves an impression that moves kids to take music everywhere they go.
"I still play the horn and I'm in some other music groups like Chelsea Gold," Anderson said. "I think french horns are really what I enjoy right now and kind of what I want to pursue in my life for college. All the music staff is willing to help you with whatever you're doing music-wise, and there are so many opportunities here to try your hardest."
Leave a Comment
About the Contributor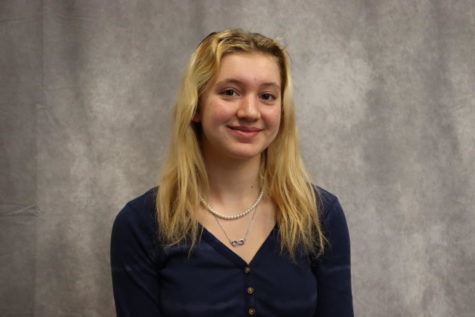 Kassidy Grossman
Kassidy Grossman is a Sophomore at CHS and this is her first year writing for the BleuPrint. Outside of writing stories she loves being with friends and...