The Show Must Go On Even in the Winter!
In the marching season, the Color Guard is a temporary add-on to the band. This means that when football season ends, their involvement with the marching band does as well, aside from a parade or two. 
However, during the winter, the focus is solely on the Color Guard as they participate in a competitive club known as the "Winter Guard". As opposed to their normal marching band drills, Winter Guard includes much more choreographed, dance-like movements. 
"The routines are much more lyrical and contemporary," Chelsea's Color Guard coach, Amanda Boham, said. "They're much less uniform and precise than in the marching band." 
Boham, a former student of CHS, has been the coach for several years and has loved every minute. She was a part of the program when she was in high school and went on to join the team in college. 
"My favorite part is the performances," Boham said. "I always loved being a part of them, and I love watching them now as a coach."  
Another contrast between the Color and Winter Guard is that there is a chance for new recruits in Winter Guard. When new people want to join to try it out because they were too busy during the fall, they can join and be taught the ropes while the drill is still being revised. One of these newcomers is Ava Wiese ('26), who enjoys the welcoming atmosphere of the Guard.
"It's really chill and easy-going," Wiese said. "It's really fun once you learn the basics." 
Practices are held twice a week, and competitions are low-commitment as well. Winter Guard is a fun opportunity for growth in friendships, skills, and competition. 
To prepare for these competitions, the team uses their practice time wisely, preparing for their three competitions and the State Finals. These competitions are very diverse, with different schools having different priorities for their Winter Guard teams. The judges also differ, giving opinion-based scores to each show they see.
"The thing about Winter Guard judges is that you'll never get the same score from different judges," Boham said. "It's all up to their opinion. If they don't like the show, they'll score you poorly." 
Judges give out points based on the drill, flag movements, foot placements, etc. Boham says that this year, she is cracking down on hand placements on the flag so that they won't lose points.
Winter Guard, being outside of school, is indeed a commitment. Nonetheless, practices are still light-hearted and fun while teaching students the skills they need to do well before the judges. With each year, due to their perseverance and dedication, the girls in the Winter Guard will continue to improve and impress.
Leave a Comment
About the Contributor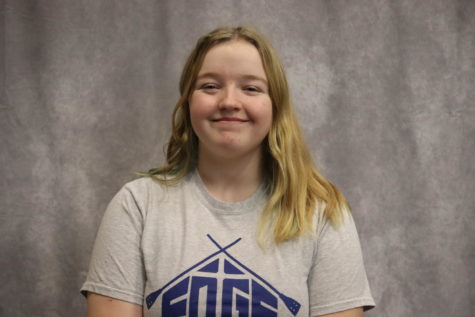 Emma Woodard
Emma enjoys cuddling with her dogs, watching her favorite crime shows, and is always down for a good mystery novel. She is also a Disney kid at heart,...