An Insight Into The Life of A Swimmer
Being a swimmer is not as easy as it may seem. Riley Monahan ('23) knows all about the difficulties that come along with the sport, from training that lasts twenty hours a week with 6-7:30 a.m. morning practices, as well as 3:20-5 p.m. practices after school. And Monahan doesn't just swim. She has to balance school work, working as a lifeguard at Beach Middle School, and participating in CHS's Link Crew. 
"I started swimming when I was eight," Monahan said. "Is it a lot of work? 100%. But it is worth it in the end."
Starting swimming at a young age will give you an advantage, but it is not impossible to pick up the sport throughout high school. 
"I have swum for nine years," Monahan said. "I do think that starting swimming at a young age has helped me get to where I am because I have been able to carry the information that other coaches have given me [….] to become a better swimmer."
Playing any sport in college is rare, as only about 7% of high school athletes continue on with their sport in college. That's not to mention that for NCAA Division 2 sports, only 1.2% of swimmers will make it to the college level. 
"The goal is to swim in college," Monahan said. "I have gotten two offers from (NCAA) division two schools: Ashland University and Notre Dame in Ohio."
As well as swimming in college, Monahan is thinking about a major within the medical field: exercise science. Picking a college for Monahan is not just about the swim program, she is making her selection based on academics, athletics, and personal interests. 
"While I was going through the college search, I made sure that while I was looking, I would find schools that had my interests," Monahan said. "That way when it was time for me to make a decision, I knew what schools were best fit for me."
Many people have a role model or an inspiration that inspired them to try the sport, activity, or club they are involved in today. For Monahan, it was watching the sport in general that sparked her interest. 
"Watching the Olympics when I was younger got me interested in the sport," Monahan said. "Micheal Phelps was probably the biggest [inspiration] for me though."
Pushing through hardships is to be expected in any sport. It is something that every athlete will face one way or another. But with the help of her team, Monahan has continued with swim and wants to improve and grow as an athlete.
"Definitely the people and the team," Monahan said. "As well as trying to improve myself to be better than I was the year or meet before." 
Leave a Comment
About the Contributor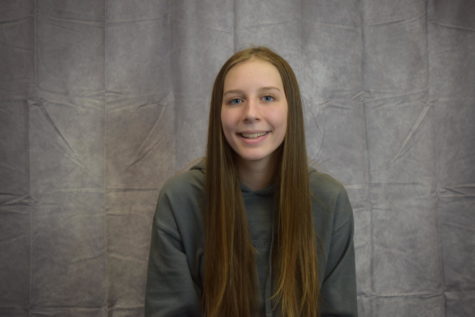 Alex Davis
Alex is a senior at CHS, and this is her first year writing for The Bleu Print. Outside of writing she enjoys playing basketball and figure skating.