Taking Away a Seat: Musical Chairs Has Lost Its Spot
Imagine a gym full of students cheering on their peers in the popular musical chairs game. Crowds shouting, music blaring, and students racing around a circle of chairs in hopes of securing a spot for another round.
The popular pep rally game musical chairs was not played during the 2023 Winter Carnival pep rally last Friday and many students are confused by its absence and reminisce over the excitement it provided.
"It was funny and entertaining," senior Emilee Underwood said. "I liked watching the underclassman fight the upperclassman."
The rules of the game are simple: two participants from each grade walk around a circle of chairs to the beat of the music and when the music stops, the race to find a seat begins. There are always fewer chairs than there are players, so whoever was left without a chair is out of the game. In each round, more chairs are taken away until one chair remains between two players–which is where things start to get heated. 
"It was entertaining," sophomore Claire Ash said. 
As other students watch, participants put their all into the game and do all they can to secure a spot in the next round. In the heat of the moment and with the threat of letting down their class hanging over their heads, many of the players push and shove to reach a chair on time. Though observed by students to be simple friendly competition with a little roughhousing, the administration seemed to view the game in an entirely different light.  
Student Council president Lia Spink ('23) explains that the student council was told that musical chairs had gotten "out of hand" in the past, so it would no longer be available as an option at school pep rallies. 
Although musical chairs was a pep rally hit, the game did tend to get extremely competitive. The game was fun to enjoy while it lasted, but will now be replaced by other, just as fun but not quite as exciting, games.
Leave a Comment
About the Contributor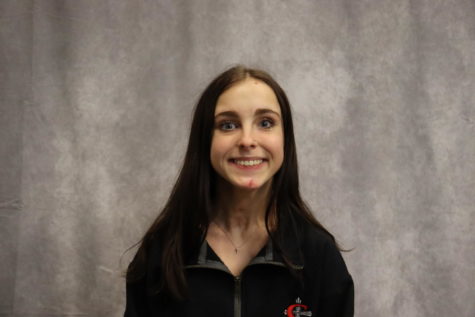 Emma Leonard
Emma is a senior at CHS and she has been writing for the BleuPrint since Sophomore year. Outside of writing she enjoys reading romance stories, watching...