Uptown Dunk: CHS Boys Varsity Basketball Season ⅔ Recap
It is impossible to look back and review the boys varsity basketball season this year without mentioning the indisputable success and minimal losses on their record. The team has been delivering each game and playing full-heartedly, with no excuses or exceptions.
Throughout the season, the Bulldogs have been crushing team after team, always leaving the student section screaming and cheering for their victories. 
"The student section is a really big part of the energy in games, especially big games like Dexter," Jake Stephens ('24) said. "I know that a few students have been suspended for their actions, but it's important to our team to keep the student section around."
Players greatly value the encouragement that the student section offers and look to them for motivation when the games get slow. 
Not only does the student section offer motivation but it also helps create memories. One highlight that lives with each student of CHS is the win against Dexter High School at the beginning of the season. The game ended at 59-50 after being a close score the whole game. 
"It was fun playing against Dexter, that's always one of my favorite games of the year," Stephens said. "It was competitive and a close game, so it was fun. There was definitely a lot of pressure on us being undefeated going into our rivals' gym, but we stayed 'between the lines' as Coach Cabana likes to say, which worked in our favor, getting us the win."
Another new element is the new coach, which has been a huge, but still great change for the team and the team's skills. 
"The best thing about our coach is her positive energy and different perspectives on everything," Braden Watson ('23) said. 
Over half of the season is over and some exciting games have been played. Big numbers have shown up on the scoreboard, the coaches' voices have echoed over the court, the sound of players' shoes squeaking when the audience goes silent for a free throw, and the heartwarming sound of the student section cheering when the team scores are all aspects of the game that the players and student section will remember.
The positive energy of the coaches and student section, the competitive atmosphere that comes with playing against other schools, beating school rivals, and more are all things that have made this season a good one so far.
Leave a Comment
About the Contributor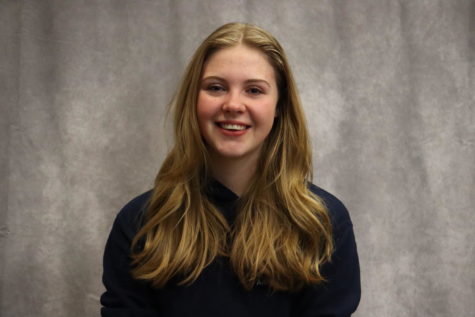 Emma Andersson
Emma is a senior exchange student from Sweden and this is her first year writing for the BluePrint. Outside of writing stories for the sports department,...