Handling Grief: Insight from CHS Counselors
Everyone has had an experience with grief, whether it be someone close to you passing away, the death of a beloved pet, or knowing friends and family who have dealt with loss. However, grief is sadly something we must go through at some point in our lives, but the true question is, how can we navigate it? 
I recently just lost my grandmother this past year and the journey of loss hasn't been easy by any means. When someone in your life who was very close to you is suddenly gone, it comes as a shock. 
It can sometimes be annoying, taking advice from online resources or even from professionals when discussing grief, as they can seem ineffective and impersonal. Personally, however, some pieces of advice became truly helpful for me as I continue my journey of healing. I consulted with some of our counselors here at CHS to help expand on the resources available to students and share their professional opinions. 
These tips may not work for everyone and it is important to remember that grief comes differently for everyone. Please take these tips as a guide and remember that you are not alone. 
Give Yourself Time
After losing someone close to you, it can be very hard to let yourself stop. Completely drop all of your responsibilities and stop. However, this is the best thing you can do, you have to give yourself time and space to think about what you are going through. 
"Grieving teens need to take some time for themselves because they may expend considerable mental energy in their attempts to make sense of the whole experience surrounding death, leaving little in reserve for day-to-day and school activities," CHS Counselor Daniela Bickel said. "Teen grievers often find themselves staring into space or daydreaming, unable to focus. Their world has been turned upside down and it takes some time to find ways to cope."
Those closest to you, such as your friends and family who are part of your "inner circle", are therefore affected by the loss and are able to empathize with you. Maintaining connections with these people can not only help you but aid them in working through their grief. 
"You never know how you're gonna process grief," CHS Counselor Tim Mann said. "You want to sit with your loss and then you can have a better understanding of it. The more time that passes, the more that you can process and understand your feelings."
Be Kind To Yourself
It's easy to be hard on yourself, especially during a time of vulnerability and sorrow. Reminding yourself that grief is different for everyone and that you have the space to deal with your emotions in your own way.  
"Grieving is a different experience for each person; teens grieve for different lengths of time and express a wide spectrum of emotions," Bickel said. "Grief is best understood as a process in which bodily sensations, emotions, thoughts, and behaviors surface in response to the death, its circumstances, the past relationship with the deceased, and the realization of the future without the person." 
There is no specific way a person should act when handling the death of a loved one. Grief is not defined by crying and visible sadness, it can look different during different times in your life.  
"For example, sadness and crying may be an expression of grief for one teen, while another may respond with humor and laughter," Bickel said. "Some teens may need some time off of school, while others prefer to return as soon as possible, to try to regain a sense of normalcy."
There are many ways you can practice giving yourself kindness. However you like to show yourself grace, remember that grieving is unique for each person and you can simply feel what you feel without any harsh judgment towards yourself. 
"Because your life has been upended, the last thing you need is to be critical of yourself on top of it," Bickel said. "Give yourself grace, take breaks, and remember that either with friends or alone, recreation can be a means of grieving or can provide a much-needed break from the serious work of grieving."
Bill of Rights for Grieving Teens: A grieving teen has the right to…
Know the truth about the death, the deceased and the circumstances 

Have questions answered honestly 

Be heard with dignity and respect 

Be silent and not tell you his or her grief emotions or thoughts 

Not agree with your perceptions and conclusions 

See the person who died and the place of the death 

Grieve any way she or he wants without hurting self or others

Feel all the feelings and to think all the thoughts of his or her own unique grief 

Not to have to follow the "Stages of Grief" outlined in a high school health book 

Grieve in one's own unique, individual way without censorship 

Be angry at death, at the person who died, at God, at self and at others 

Ignore people who are insensitive bigots who spout clichés 

Have his or her own theological and philosophical beliefs about life and death 

Be involved in the decisions about the rituals related to the death 

Not be taken advantage of in this vulnerable mourning condition and circumstances 

Have irrational guilt about how he or she could have intervened to stop the death
Practice Self Care
When you're feeling down it may be easy to curl up in bed and ignore your responsibilities. Nevertheless, it's important to maintain some sort of routine to keep you going. It is perfectly fine to give yourself time to just shut off, but getting up and doing something can really help you feel better.
"When a death occurs, it pulls the rug out from under a teenager. Life feels chaotic, unsafe and unpredictable," Bickel said. "You can help rebuild a sense of stability by providing consistency and routines. Accomplishing small tasks and returning to daily routines helps alleviate the sense of disorder and anxiety that naturally accompanies a loss. Routines also create a sense of continuity between life before death and afterwards." 
Self-care means just that: the practice of taking action to preserve or improve one's own health. Whether that be washing your face, changing your clothes, eating something beneficial for your body, or getting some exercise, self-care can leave you feeling better and refreshed. 
"A death in the family is often followed by many changes, some of which may be unexpected and add an extra element of stress to your life," Bickel said. "Sometimes, we forget that each change is another loss. Often, changes intensify the already difficult grief experience. Too many changes put pressure on teenagers, and some may find it difficult to adjust. Going back to routines and practicing self-care can truly help with mental health."
In addition to taking care of your physical self, it's also important to stay connected with the people you love and who care about you. These connections can help you feel supported and cared for while easing any mental strain.
"People in the inner circle are processing the same loss potentially in a different way," Mann said. "So it can be nice to connect somebody that's outside of that circle who has a different perspective on the loss."
Continue to Talk About Your Loved One
Although it might be hard, continuing to talk about the person you loved helps keep their memory alive. It's never wrong to talk with your friends and family about some of the favorite memories you shared with your loved one. 
"Remembering a person who died is part of the healing process," Bickel said. "One way to remember is simply to talk about the person who died. It's okay to use their name and to share what you remember about that person."
Reach Out
You have so many wonderful resources available to you when it comes to handling grief and acceptance. Here at CHS, students can go to school counselors and the Ele's Place program–a free help center for grieving. 
"We run grief groups each year," Mann said. "That's when somebody from Ele's Place comes in and helps run those groups. But then there's also counseling practices all throughout the communities, we can share those resources with thriving minds to recruit counseling."
The counselors here at CHS have voiced that they are always available whenever you need them. 
"I am here for you, to support you in any way I can and to listen to you," Bickel said.
CHS Resources: 
Ele's Place is a healing center for grieving children, teens, young adults, and their families. If you have a grieving child or teen in your life, the Ele's Place Clinical Program Staff is available to help! Please call Ele's Place Ann Arbor at 734.929.6640 or email [email protected] to learn more about their FREE OF CHARGE support programs that are offered for as long as a family needs.
Other Resources: 
Arbor Hospice: Arbor Hospice provides a range of expert support services to help explore, understand and express the grief that is exclusively yours. We also feature specialized grief support for children and teens. Services provided: In-person support groups, one-time support programs, and virtual support groups. Located in: Washtenaw County.
GrieveWell: GrieveWell's mission is to provide resources and support to individuals in grief — as well as those who surround them — in order to build a community that promotes healthy grieving and healing. Services provided: Peer counseling and workshops. Located in: Washtenaw County.
Compassionate Friends: Compassionate Friends provides support to people who have had a child die at any age, from any cause, or for people who are trying to help those who have gone through this life-altering experience. Services provided: Support groups, crisis hotline, private Facebook groups, online communities, family support, and general supportive information. Located in: Chapters of Compassionate Friends exist throughout the country. Use the chapter navigator to find a chapter near your city.
New Hope Center for Grief Support: New Hope Center for Grief Support is a 501c3 charitable organization dedicated to bringing  hope, healing, and new beginnings to adults and children grieving the death of a loved one. Services Provided: Support groups and workshops for all types of losses. Located in: Northville, MI, and serves all of southeastern Michigan with groups held at various locations.
Online Resources:
Dougy Center for Grieving Children: The Dougy Center provides support in a safe place where children, teens, young adults, and their families grieving a death can share their experiences.
Modern Loss: Modern Loss is a place to share the terrain of navigating your life after a death. Beginners welcome.
What's Your Grief: Promoting grief education, exploration, and expression in both practical and creative ways. 
Refuge in Grief: An online community and resource that helps people survive some of the hardest experiences of their lives.
Hospice of Michigan: Hospice of Michigan provides ongoing grief support even if your loved one was not enrolled in Hospice. Find grief support groups throughout Michigan's lower peninsula on their website. 
Leave a Comment
About the Contributor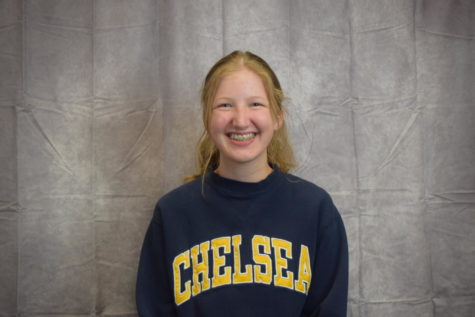 Sonja Schemahorn, Online Editor
Sonja is a Sophomore and this is her second year in the BleuPrint. Other than editing and writing for the BleuPrint, Sonja is involved in Arbor Club, Interact...