Boys and Girls Basketball: SEC Matchup Vs. Tecumseh
Taking a step closer to claiming the SEC White Title, both the girls and boys varsity basketball teams beat their conference opponent: Tecumseh. The lady Bulldogs took the victory against the Indians 70-54. During the game, senior Megan McCalla scored her 1,000th career point. The boys team defeated Tecumseh with a twenty-point lead, ending the game 68-48. Top scorers included Jake Stephens ('24) with thirty-one points and Joey Cabana ('24) with nineteen. 
Considering the stakes of this game, both teams experienced some added pressure. The boys team looked to win so they wouldn't have to share the title with Tecumseh as they did last season. The girls wanted to continue a long-lasting win streak.
"The last two years we have tied for the league title and with this win, we are in first place in the league," Stephens said. "Tecumseh had also beaten us last year so it felt good to get a bit of revenge back on them."
After sharing the title in previous years, the boys team didn't take this game lightly and appreciated the victory. The girls also appreciated their victory as they were able to add another win to their streak.
"There definitely was a bit of pressure going into this game," Meghan Bareis ('24) added from the girls team. "We have beaten Tecumseh thirty-six out of the past thirty-seven games and we want to continue with that streak."
Considering their success throughout the game, there was one thing that stood out specifically about how the boys played.
"[It was] definitely our defense," Stephens said. "That was the best defense we've played all year which led to easy buckets on the other end."
While the team was able to put up 68 points, the boys still valued how well they played their defense, knowing its important role. Seeing their consideration towards their defense shows that there is more to sports than simply scoring– teams have to value how well they play with each other. 
"I thought we played really well together," Stephens added. "We moved the ball, found the open guy, and made the easy pass. I think we played one of our best, if not the best game we've played all season."
Similarly, the girls team values more than just winning. They take into account how strong the team's bond is, especially the trust they have in each other and the support they offer to every teammate.
"A factor that was important throughout our game was trust," Bareis said. "We trusted one another to [believe] not only in our teammates but in ourselves to accomplish the things we did. Our defense was top notch and we were able to stop them multiple times. We also wanted Megan McCulla to reach 1,000 points in a game like this so watching her achieve that was awesome!"
After this win made up for that past loss, the boys team is moving forward with confidence. 
"We hope to win a league title outright, win a district championship, win a regional championship, and win the state championship at the Breslin Center at the end of the year," Stephens said.
Also coming off a win, the girls are similarly looking forward to a successful season to come.
"We hope to continue doing what we are doing this season," Bareis said. "We are making sure to hone in on the 'little things' so our team can grow even more. We hope to win as much as possible while still having fun with our team."
Leave a Comment
About the Contributor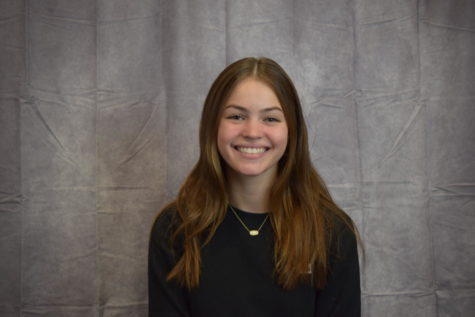 Izzy Barkey, Dept. Chair
Izzy is a senior at CHS and this is her first time writing for the Bleu Print. Outside of covering sports for the paper, she enjoys playing tennis and...