Staff Appreciation: Who is "Pops"?
Pops! When you hear this you might think of a balloon or your grandfather, but to the students of Chelsea High School, "Pops" is the nickname for one of their beloved art teachers. Claire Popovich has been teaching at Chelsea for five years. As well as teaching her specialty, ceramics, she also teaches jewelry and 2D arts like drawing, painting, and printmaking. While that's what she's known for, Popovich does so much more than that. 
"In addition to teaching the joys of art, I'm also now the Chelsea School District Art Department Coordinator," Popovich said. "I am responsible for supporting the arts at all grade levels, not just at the high school."
Popovich enjoys her job, coming up with new art projects for her classes and setting up the art shows. However, her favorite part of her job is getting to see her students grow, with smiling faces and creative flow!
"Getting to hang out with my students all day, and then seeing them excited about their art? Those are my favorite parts of the day," Popovich said.
Popovich didn't always think she would become a teacher like her mother and grandparents. In fact, she was quite adamant that she wouldn't. However, when she taught for a summer camp, Popovich found that she truly enjoyed teaching art and being able to connect with her students. 
"I ended up working at a summer camp as an art teacher," Popovich said. "I loved it, it was so great. It was the most fun I ever had at a job and I was like 'Darn it! I want to be a teacher.'"
Before going into art, Popovich was interested in going to college for a music degree. Despite making art the focus of her career, Popovich always has music in her room, emanating good vibes. Art and music go hand in hand, and alertly so do artists. 
"I almost went to college for music instead of art," Popovich said. "If you ever want to nerd out about music or anthropology, I'm your gal."
Popovich loves her job, the art, and the students she gets to see and share with the importance of expression.  
"I think sometimes art is overlooked as being an important part of a student's day," Popovich said. "I think that there is a lot of value in turning your brain off from academic thinking and going into creative flow. There's something very cathartic and therapeutic which is just as valuable as learning."
Leave a Comment
About the Contributor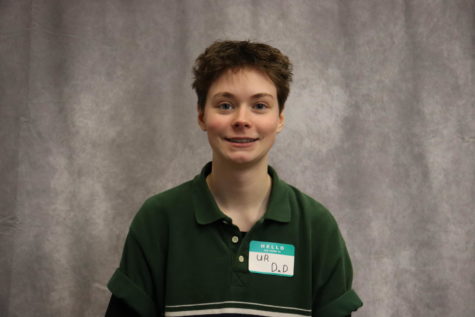 Marah Putnam
Marah is a junior and a first year writer for the BluePrint. When they aren't tap tap tapping away at a keyboard, they are listening to some good jams...