Bulldog of the Week: Lily VanHevel
Junior Lily VanHevel is a very innovative person and uses her creativity to add character to her paintings and think outside the box while creating the right robot for the robotics team.
VanHevel's portraits can vary in color and style based on her emotions. VanHevel likes to incorporate her feelings into her technique which results in unique paintings.
"I know that I put a lot of my feelings into my paintings," VanHevel said. "If I can't express them in words, I like to paint with them because I just don't know any other way to express them."
Although she may face the occasional "art block", VanHevel does not get frustrated easily and uses painting to unwind after a stress-filled day. 
"It's really calming if I've had a really stressful day or a stressful week, or I'm just tired," VanHevel said. "I just sit down at my desk and I paint, it gives me a sense of relaxation."
Painting is not a new interest for VanHevel; she's always been interested in and inspired by paintings she's observed at art galleries and museums.
"The paintings in the museums were always cool," VanHevel said. "There's always the question of one day could I be there, can I get further?"
However, rather than being an artist, VanHevel would like to keep painting as a stress-relieving hobby while pursuing a career in robotic engineering.
"I want to do robotics engineering, it's a mix of mechanical and electrical," VanHevel said. "Unfortunately since it's fairly new, so it's kind of hard to find schools that are offering this program."
Despite the lack of schools offering a robotics engineering program, Vanhevel has been able to expand her experience within Chelsea High School. 
"Currently I'm in one of the consortium classes here in Chelsea, the engineering robotics program," VanHevel said. "I think it's a fantastic program. I'm learning a lot about engineering and manufacturing."
The robotics engineering program's teachings are incredibly beneficial to VanHevel's robotics team due to their influence on the team's success in their recent competitions. 
"I am in our school's robotics team, and last year we went really far," VanHevel said. "We won our first competition. We got second in our second competition and we even made it as far as Worlds which is the biggest [robotics] competition ever. We also won an award at it and it's just really impressive that we were able to make it that far, because the past seven years the team hasn't done very well. It's cool to just see what maybe even a couple of new faces or a new year can do."
Although VanHevel's team did exceptionally well in their competitions, it is not always easy to bring a project together the way you envision it. In painting, robotics, and life, patience, trial, and error are essential to make your vision a reality. 
"Don't get easily frustrated–it is really easy to get frustrated at first but you have to be patient with it," VanHevel said. "It's a learning process. With painting you just got to practice. Then with robotics, there's gonna be a whole bunch of stuff that you won't get at first, but you will slowly start to understand. You just gotta gotta be patient, and ask for help."
Leave a Comment
About the Contributor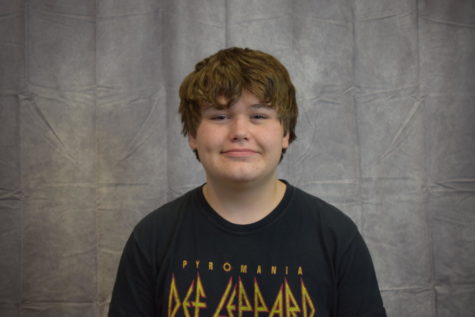 Caden Bubenhofer
Caden Bubenhofer is a sophomore at CHS and this is his first year of working on the Bleu Print. There are many other things that Caden enjoys doing outside...