Bulldog of the Week: Rachel Slupe
Rachel Slupe, a first-year CHS teacher, has loved theater ever since she was little. Slupe's grandmother was a major inspiration, and it didn't take long for Slupe to develop the same deep passion for performing arts.
"So my grandmother on my mom's side, she was in theater quite a bit from around the 1980s until the early 2000s," Slupe said, "I remember seeing her in a production called 'Leading Ladies,' which is a comedy, and I went, 'Wow, I'd really like to try that.' So I went to my first audition."
Starting theater wasn't easy at Slupe's high school, but she did not give up on her passion. Slupe branched out and found ways to pursue theater outside of school, and climbed the ranks very quickly.
"My high school, unfortunately, didn't have a very solid theater program," Slupe said, "So I first and foremost got involved with the Croswell Opera House in Adrian. I took some custom classes through there, which included me working on their productions. And so shortly after high school, I became a full-fledged stage manager for them."
The theater wasn't the only thing that Slupe progressed through quickly. Slupe did not need to finish college as she had enough experience to receive job offers before the end of her college career.
"What happened in college was I was studying for a bachelor's degree in theater arts," Slupe said. "About halfway through it, I got to the point where I was getting job offers with my current skill sets. So it was like, do I just take my associates and leave? Or do I go another like, you know, twenty-five grand into debt for something that I've already achieved at this point?"
Although Slupe soared above expectations and rose to success sooner than expected, it wasn't easy. 
"Directing a play is kind of like wrangling snakes and horses," Slupe said. "There's all sorts of directions in which things need to go and you just kind of have to funnel it into one specific vision…because it can be really hard for an actor to see what the whole image is."
It was difficult for Slupe to adjust from a professional theater production to a high school production. There are higher expectations in a professional setting, and professional performers are usually easier to work with. Nevertheless, Slupe did not give up easily and did her best to adapt to the high schoolers' needs.
"I had to constantly remind myself that what might be a standard for me isn't always standard for everybody," Slupe said. "That's been my biggest challenge: just reminding myself that not everyone has had the same theatrical background that I've had, because I was very fortunate in high school to get started early on, and it's not the same for everyone."
Although the team was unfamiliar with the professional expectations Slupe entered with, the high school pe3rformers did not crumble under pressure.
"They were put under a lot of pressure with a short deadline to perform and they did great," Slupe said. "I wish I could've taken off some of that stress for them by just allotting a little more vocal time. I think it would have been beneficial to everyone."
Theater productions always have positions to fill, whether it be behind the scenes or being an actor, and the more people on the team, the better the final product will be.
"Take the chance if there is an opportunity," Slupe said. "Whether your thing is painting or performing or even if you just want to lend a hand. There's always something for everyone."
Leave a Comment
About the Contributor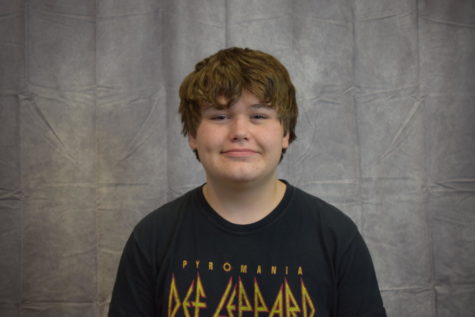 Caden Bubenhofer
Caden Bubenhofer is a sophomore at CHS and this is his first year of working on the Bleu Print. There are many other things that Caden enjoys doing outside...