Arbor Club Takes the Lead in Staying Green
Every school has that one club that influences people to live clean and help the environment. At Chelsea High School, that would be the Arbor Club. Consisting of over forty members, they are helping to make this school and the world, a better, cleaner, and more environmentally friendly place. 
"We go around the school grabbing recycle bins from the classrooms and in the springtime, we plant trees in the arbor," Megan Hayduk ('23) said.
Although Hayduk joined in her freshman year, which got interrupted by COVID-19, she didn't start a lot of her work for the club until she later rejoined the club in her junior year. 
"Ms. Sinacola had a big influence on me to join the club, since she was involved in it, she helped me explore what I wanted to do," Hayduk explained. "I was interested in recycling and composting. I like the environment and I try to be green".
Shawn Sinacola, along with Holly Reiser currently run the Arbor Club, recruiting students that might be interested in the club and coming up with ideas to help the school remain green and clean. 
"It's a very low-commitment club and it's definitely something that makes me feel like I'm making a difference in the world," Hayduk added. "I have two older sisters and a lot of the things I do because I'm inspired by my older sisters. [This is] something my sisters weren't involved with, so it's kind of my own thing."
Sonja Schemahorn ('25) has just recently joined the Arbor Club and is excited about the projects that she will be involved in through the club. 
"I like the idea of being involved with the school and planting," Schemahorn said. "At home, my family really likes to plant, and I never really get the opportunity to do much because I'm so busy. I feel that at the school I can do it more." 
Many students join the Arbor Club to meet new people and contribute to making the world a better and greener place.
"I'm definitely inspired by my peers," Schemahorn said. "I just thought it'd be cool to get more involved in school clubs." 
Members of the Arbor club collect plastic bottles and cans to bring to stores (usually Meijer) and return them to their respective companies so that they reuse whatever they can. The Arbor Club then uses the money from these returnables to support its cause.
"When I first joined, I [was on] my first trip to Meijer and I was really anxious and nervous wondering 'where am I supposed to go, what am I supposed to do' and I remember Evan Sing ('22) was very supportive and showed me what to do," Hayduk said. "I was so nervous like 'oh driving to Ann Arbor' and Chelsea Paddock ('22), told me that we all drive together and it really calmed me down.
Tallulah Gorby ('25) joined in her freshman year. Her brother, Forest Gorby ('22) drew her to the Arbor Club. 
"He was very interactive with the school and the town," Gorby said. "It was also for a good cause."
The longer these students have been in the club the closer they get to one another, building bonds and friendships that can make their high school life easier and more enjoyable.
"I really appreciate the effort that everyone puts in to make the school a better place," Gorby said. "Now the Arbor Club focuses on making our environment around the school better with recycling and composting in our arbor, putting one foot forward to do your best." 
This year, everybody, even if not in the club, is invited to bring in plastic films like bread bags, garbage bags, or plastic bags from grocery stores and take them to the Independence Hall or drop-off sites around town. In the new year, the club will use this plastic they've received to make new benches in the Arbor.
Arbor Club meets once a month during zero hour on Thursdays. If you would like to join or contribute, contact Sinacola or Reiser via email or in person to sign up.
"You can just come, have a good time, eat some pizza, plant trees, it's totally worth it," Gorby said. 
Leave a Comment
About the Contributor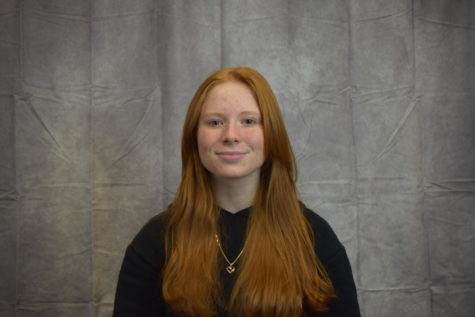 BrieAnne Lingg
BrieAnne Lingg is a sophomore at CHS, and this is her second year writing for the Bleu Print. Outside of writing in the school paper, she enjoys traveling...