Ten Hours: How Students Serve Their Community
The National Honors Society members at Chelsea High School are required to fulfill ten hours of volunteer service. While some students struggle to fit community service into their already busy schedules, others find it easy to go above and beyond the ten-hour requirement. 
"When you're accepted into NHS in the winter of junior year you're told you have to do ten hours by the end of the next school year," senior Megan Hayduk, NHS treasurer, explains. "It seems daunting when you first hear you have to do ten hours, but you have an entire year to do it."
Several local organizations reach out to NHS advisor, Molly Mattias, to request NHS volunteers. Then she creates a signup genius that lists the opportunities so members can browse and sign up for times that fit into their schedules.
"In the past, NHS members had to do the volunteer opportunities that Mrs. Mattias found," Hayduk recollected. "But because of the pandemic there were fewer volunteer opportunities, so she let members find their own. As a group of officers, we decided that we would continue letting members find their own opportunities or use the ones provided. We decided it's better to reward all volunteer service rather than just the ones that are through NHS."
The ability to choose where to complete their volunteer hours has allowed NHS members to branch out and help the community in a variety of different ways. 
"I painted the safety town houses for the co-op preschool at the WSEC, volunteered with the Arbor Club, and I also have been getting hours for tutoring," Hayduk said. "I really liked doing the painting for safety town. I did it with two friends and it was a lot of fun. I was glad that I was making something that people would actually use; it's really going to be impacting little kids."
Using her artistic talents to benefit the community helped Hayduk to reflect on the motives behind serving. 
"If you're volunteering, do something you actually enjoy," Hayduk advised. "It won't really feel like work if you're having fun while you're giving back to your community."
Another NHS member, senior Brooklyn Nichols, is also in the process of tallying up her volunteer hours. But as all high school students know, it can be hard to squeeze in additional activities around school and extracurriculars.
"You have to be in a lot of activities to be able to get into NHS," Nichols explains. "Our involvement in all of those activities means that we don't have a lot of free time to complete the hours."
Nevertheless, Nichols has found a way to serve her school district. Taking a walk down memory lane, Nichols visited elementary schools to mentor younger students. 
"I volunteered at North Creek, assisting students with book reading," Nichols said. "I helped them pick out books they were interested in. We took them outside to the playground and supported them through the process of learning to read." 
The hours she has spent serving the youngest in her community led Nichols to make new discoveries about leadership. 
"It's important to ask for help if you're confused because you need to know what you should be doing before you can help others," Nichols reflected. "It's also important to be non-judgmental and trustworthy so people can come to you for help."
One NHS member has gone above and beyond the ten-hour service requirement. Senior Phoebe Harris has already completed ten hours of community service but has enjoyed the experience so much that she continues to volunteer regularly. 
"The Chelsea Area Historical Society has been looking for people to come be docents," Harris said. "So I went in to see if I could help, and there was a woman there who works with the textile and garment collection and used to be a historical reenactor. She met with me and was pleasantly surprised to find a child who also likes historical fashion and she kind of adopted me. Now I work with her in the attic of an 1850s townhouse. We catalog new donations, write up descriptions, and take pictures for their database."
Harris's discovery of a kindred spirit and a dream opportunity wouldn't have occurred if she hadn't gone out looking for those NHS volunteer hours. 
"It goes to show there's always something that you can find that you're going to enjoy," Harris reflected. "I was surprised that there was something so perfect for me in Chelsea."
Leave a Comment
About the Writer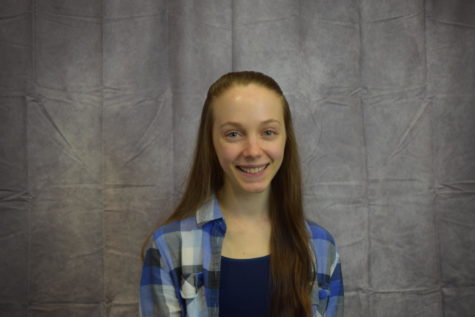 Selah Strong
Selah is a senior at Chelsea High School and this is her first year writing for The Bleu Print. Outside of school, she spends her time dancing at Ballet...