Cross Country Teams Triumph In SEC Meet
Both the girls and boys cross country teams came home with noteworthy accomplishments on Thursday, October 20. The varsity boys placed first out of the four participating white division teams participating in the event. Connell Alford ('24) came in first overall with a time of 15:06, Zebedee Swager ('23) came in tenth with a time of 16:22, Jackie Dell ('24) finished eleventh overall with a 16:29 personal record (PR), and Nick Spruce ('23) came in just behind Jackie with a time of 16:30. The varsity boys had all seven runners receive All-League awards.
The junior varsity boys finished fifth out of ten teams. First for Chelsea was Ethan Kapolka ('23) in nineteenth place with a PR of 17:39. Next were back-to-back runners Karl Swager ('26) and Linus Helzerman ('26) in 37th and 38th place with times of 18:03 and 18:05 (PR) respectively.
Varsity girls placed second behind Adrian. Natalia DeMea ('25) finished second overall with a PR of 19:21, Sam Bieber ('26) came in seventh with a 19:57 PR,  Brooke Matusik ('23) came in twelfth with a PR of 20:34, and Lauren Thompson ('25) finished fourteenth with a time of 20:35. The team had six out of seven runners qualify for all-league awards.
The junior varsity girls team placed sixth out of eight teams. First for Chelsea was Clara Fredenberg ('24) finishing with a PR of 22:35, next was Sam Dark ('24) with a season record of 22:37, and Mireille Hunter ('26) who finished with a 22:54 PR.
Both teams had great showings at Hudson Mills. Next up, the JV teams will be competing at the Franklin JV invitational on Thursday, October 27 and the varsity teams will be at Milan on Saturday, October, 29, for their regionals race.
Leave a Comment
About the Contributor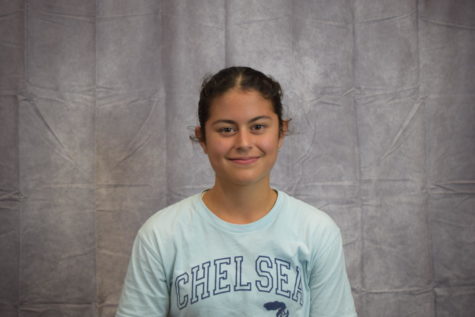 Natalia DeMea
Natalia is a sophomore at CHS, this is her first year writing for the Bleu Print. Outside of covering sports, she enjoys running and hiking.