District Faced with Bus Driver Shortage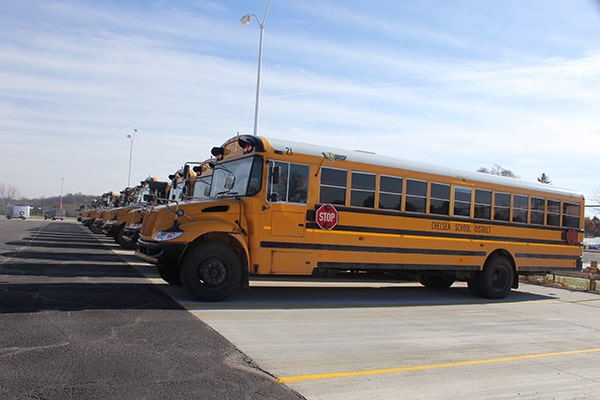 Chelsea High School is faced with a school bus driver shortage, leaving many students in need of an alternative form of transportation when traveling to and from school as well as sporting events.
The lack of bus transportation has affected many students greatly, especially student-athletes. Some athletes are unable to take a bus to travel to and from away games, which forces students to search for other arrangements. 
"It has made things much more difficult due to having to find someone to carpool with," field hockey player Teresa Smith ('25) said. "I've also had to rely on my parents much more for transportation than I did before." 
Although students are experiencing difficulties with transportation, they also miss out on other opportunities buses provide. 
"Not being able to bond with both JV and varsity definitely makes the teams feel more divided than they should," Smith said. "A bus ride would make that experience much more fun." 
Besides issues with athletics, the shortage has heavily impacted students who routinely ride the bus to and from school. 
"My parents who work in health care are very busy and can't easily go out of their way to pick up me and my siblings, who all go to different schools," Allie Sturm ('25) said. "My family has had to create a solution to gather us by arranging carpools and pulling favors so we can all get home." 
Even when students are able to ride the bus, students have had to adjust to new meeting locations for buses and different schedules leaving many uncertain. 
"With the new bus schedules and everything, meeting up at a different school from the district instead of meeting at the highschool has created confusion amongst me and other students who switch from bus to bus," Sturm said. 
Although most haven't heard of the shortage until recently, it's been an issue for quite some time. However, this shortage doesn't exclusively involve bus drivers.
"There have been shortages nationally for a long time," CHS Principal Dr. Nick Angel said. "There's been a labor shortage everywhere; it's not specific to bus drivers." 
It may seem simple to find a solution to this issue. In truth, the process is substantially more complicated than it first appears, with bus drivers needing training and a specific license before they can even begin working. 
"Training lasts for days along with significant tests," Angel said. "On top of that, retired bus drivers must wait nine months before they can come back, which hurts us in the short term." 
The Chelsea School District has been working to resolve the issue as quickly as possible. It is important within the district that Chelsea students are transported safely, which is why this shortage is now the main priority. 
"There's been an increase in recruitment, I see advertisements, and some of our staff are currently being trained," Angel said. "I'm proud our community has come together to ensure that our students can travel to and from school." 
The school bus driver shortage is without a doubt a pressing issue, and the entirety of the Chelsea School District is immensely thankful for their bus drivers and the services they provide.
"School bus drivers are an important part of our Chelsea team, and we greatly value their efforts," Angel said.
Leave a Comment