CHS Bulldog Fall Sports Preview 
As school resumes at Chelsea High School, so have sports. Within the past couple of weeks, Chelsea's fall sports have started competing and are striving to win big games, improve their abilities, and bring home championships. 
Football
After winning the D4 MHSAA State Championship, the Bulldogs are looking for another successful season by making a deep run into the playoffs and beating their rival Dexter for the 27th time.
After losing 36 seniors who graduated last spring, the team has looked to this year's upcoming seniors and juniors to step up and strive for greatness.
"This year we have almost a whole different group of guys and because of this, new guys are in new places," CHS junior Regan Plank ('24) said. 
With the new placements comes rigorous training and practice but state champions involve a lot more than just being able to win games. Having a sibling-like bond is what makes the difference between a good and great team. That's why you may be able to find the football team bowling, out to dinner, or even just at each other's houses hanging out.
"I have been able to build a bond with my teammates and people I usually wouldn't be around because of football," Plank said.
Boys Tennis
After a successful season last year, where they finished 6th in the D3 state finals, the CHS boys' tennis team is striving to improve their individual and team game.
"We near our coach say a lot that it's not about winning, it's about playing the game better," Keegan Vanbataiva ('24) said. "Our goal is to prove to other players and schools that we play the game better and that's why we win so often."
Boys Cross Country
After placing second in the D2 MHSAA State Championship last year, thanks to a 4th place finish from Connell Alford ('24) and a 12th place finish from Bram Hartsuff ('23). The boys' cross country team is looking forward to a successful season that will hopefully end with the team placing high at the state level.
"In cross country, we all run and train together year-round and because of that we form really close bonds," Jackie Dell ('24) said. "We have a lot of time to get to know each other and to enjoy each other's presence."
The boys' cross country team opened their season on Thursday, September 1st with an end-of-summer race at Huron Meadows Metropark. For half of the competing runners for Chelsea, it was their first high school race. Some top finishers from Chelsea were Alford(1st), Hartsuff(8th), Zebedee Swager('23)(10th), Dell(25th), and Leo Swager('25)(26th).
"While running I overcome mental challenges by thinking about how our team has a chance to win states this year and if I keep pushing myself to work harder that it'll bring us one step closer," Dell said. 
Boys Waterpolo
The Chelsea boys' Water Polo team is hoping to build on last season's success by winning games and improving their skills, all while remaining positive and keeping their friendships strong.
"Waterpolo is a very connected sport," Misha McElrath ('24) said. "The bond we have with each other is great. This year we are hoping to go as far in the playoffs as we can along with working as hard as we can during practices and in games."
Boys Soccer
After winning districts two years in a row, the boys' soccer team is looking for a three-peat. 
"My personal goal this season is to contribute as much as possible to the team," senior Captain Gavin Ijere said. "As a team we want to win districts and go even further if possible." 
This year the team has a new head coach, their previous coach Mario Zuniga-Gil resigned so he could go coach the GVSU college soccer team. David Thoms, their previous JV coach, has stepped up to fill Mario's old position as the head coach.
Girls Cross Country 
Even though Cross Country is looked at as more of an individual sport, a strong team bond and support are necessary to overcome tough mental challenges. 
"Our team goals for this season is to get to states again and to keep everyone on the team physically and–most importantly–mentally sound," Marah Putnam ('24) said. 
Whether it is a sore knee or a sore mind, runners must find a way to use it to their advantage and learn to lean on their teammates for support.
"I love finishing the race because it is when you realize all your hard work paid off," Putnam said. "My teammates are my best friends and are what makes it possible for me to keep going."
Sideline Cheer
After graduating a large class of seniors, and welcoming a large class of freshmen, the CHS cheer team is ready to excite all of Chelsea at the weekly Friday night football games.
"I enjoy getting to be the hype person for other people," Lainey Kovick ('24) said. "Whether that's from cheering at a game or just hyping each other up, it's what drives me the most."
When trying new skills or stunts, it is important that the team trusts each other and works together like a well-oiled machine.
"Collectively as a team we all want to grow as one," Kovick said. "We are all very close, even with the new people on the team, so the support system we give each other is very beneficial when it comes to learning new skills or trying new stunts."
Volleyball 
The volleyball team opened their season on August 18th with a quad in Fowlerville. Although their record stands at 5-7, the team is determined to continue and improve. 
"Last year we won SEC White, but we definitely could've made it further in the tournament," Sasha French ('24) said. "This season our main goal is to practice and play like SEC champions."
Aside from the actual playing of volleyball, another aspect of an SEC White championship team is a healthy team environment. 
"I enjoy the competitive energy during games and practice on top of the relationships that I have with my teammates," French said. 
Girls Golf
While this year's girls' golf team comes with minimum experience, they are hoping to tee off a successful season. 
"Our main goal as a team is to keep improving our game while enjoying playing golf," Maggie Baldwin ('24).
Outside of competing and practicing the girls' golf has also built many friends and a strong, family-like environment. 
"My favorite part about golf is after matches when we get ice cream or popsicles," Baldwin said. "It's really fun to hangout together as a team because we usually don't get to play together during the actual match, and I like to hear about how everyone played."
Girls Swim & Dive
After a successful season last year, the girls' Swim & Dive team is back and ready to work hard, P.R., and raise the bar. 
"We are hoping to be back-to-back SEC champs," Gabriella Burgess ('24) said.
Although swim & dive is usually seen as more of an individual sport, the team environment is still strong. Whether it is pushing each other to work harder, stay invested, or even show up to early morning practice before school, the team is always there for each other.
"The team support and dedication to one another is what makes playing this sport so special," Burgess said. 
Field Hockey
After losing in the D2 state semifinals last year by one goal, the team has shown that they are here to compete again this season. Even though their season has just begun, the Bulldogs have been working hard which has resulted in a positive record of only losing one game this season.
"My personal goal for this year is to really connect with the team as one of the captains," senior Lia Spink said. "I really want to make sure that when I leave, that the next year's captains will be set up for the next season. For our team, we want to make it to the state finals, and of course win. We already are doing great with a 5-1 season, so I think we have a very good chance."
Leave a Comment
About the Writer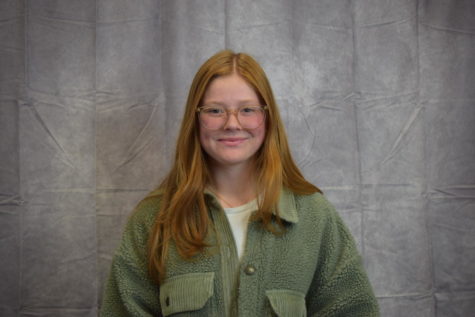 Allie Browning-Perry, Dept. Chair
Allie is a junior and has been writing for the Bleu Print since her freshman year. Outside of writing stories for the Bleu Print, she enjoys playing soccer...