Women's Tennis Wins Regionals and SECs
The varsity women's tennis team has had a strong season so far, with a record of 15-2 and as both Regional and SEC Champions and advancing to the state tournament seeded third. 
With a new coach and having missed the 2020 season due to COVID-19, the team was a little unsure going into the season, but they've found their footing and have been smashing their expectations. 
"We've just totally blown our expectations off the roof," Meghan Bareis ('24) said. "Everyone was a little scared and a little hesitant going in because it was new. We have a new coach and new circumstances, but we just pushed through, and it's crazy how far we've come for the whole season."
The team still did face challenges from COVID-19 though. 
"COVID has been a setback for everything [in the season]," Meghan said. "It's been pretty hard, because if one person's not there, because of COVID, it can mess up your whole team. We've really had to rise over that challenge. Everyone has to be a lot more cautious and safe."
The team has also had great coaches who help them overcome adversity and keep the sport both competitive and enjoyable.
"Our coaches are amazing; they never fail to make us laugh," Meghan said. 
The Bulldogs finished with 24 points at Regionals, far ahead of St. John's in second place with 14 points. In addition, they also won all eight flights and didn't lose a single set.
At one singles, Amanda Dosey ('22) won each of her matches 6-1, 6-0. Sierra Martinez-Kratz ('21) at two singles won her first two matches 6-1, 6-0, and the final one 6-2, 6-0.
Rachel Bareis ('21) at three singles had strong matches winning the opening one 6-1, 6-0, and her next two 6-0, 6-0. Anne-Marie Begola ('24) at four singles cruised through all her matches, dominating 6-0, 6-0 in each one. 
For the doubles team, one doubles Amelia Loveland ('22) and Adrienne Delong ('23) swept their matches 6-0, 6-1; 6-0, 6-0; and the championship 6-3, 6-2. 
Kendall Spink ('22) and Malina McGraw ('22) swept two doubles 6-0, 6-1; 6-3, 6-1; and 7-5, 6-4, for a hard fought final match.
At three doubles, Natalie Bareis ('21) and Katie Leissner ('21) had strong matches, winning them 6-1, 6-1; 6-3, 6-0; and the championship 6-0, 6-0. 
Four doubles M. Bareis and Megan Boughton ('23) swept two matches 6-0, 6-0, and won the final one 6-1, 6-2. 
Even with their losses, like a 7-1 opening loss to a strong Pioneer team, the Bulldogs have put forth their best effort and done well.
"We've had some tough games against [harder Division 1 teams], like Pioneer," Meghan said. "We did really well against them. Even though we didn't win, we played our best."
Within the SEC White Division, they went 7-1, sweeping Pinckney, Tecumseh, Adrian, and Dexter 8-0 and winning against Lincoln 7-1. Their only loss within the SEC White Division was to Jackson, 6-2, which they later avenged by finishing first at the SEC White championship ahead of third place Jackson.
The team swept all eight flights at SEC White Championships as well, helping them to win the overall league championship over Dexter with 18 points.
The team is now looking forward to a strong showing at the Division 3 state championship on June 3rd-5th in Holland, for which as a team they are seeded 3rd.
7 out of 8 flights are seeded. Dosey at one singles is seeded sixth. Dosey has gone 18-4 on the season. At two singles, Martinez-Kratz is seeded fifth, having gone 16-3 on the season. 
Rachel at three singles is the only Bulldog not seeded. She stills looks to have a strong showing in the tournament, however, having gone 17-5 on the season. 
Begola is seeded second at four singles, having gone 17-2 on the season. For one doubles, Loveland and Delong are seeded second as well, having also gone 17-2 on the season.
Spink and McGraw at two doubles are seeded fourth, having gone 16-3 on the season. At three doubles, Natalie and Leissner are seeded fifth, having gone 15-4 on the season.
At four doubles, Boughton and Meghan have strong outlooks for the state tournament, being seeded first. They have gone undefeated on the season 19-0. 
Throughout the season, though, with the setbacks and triumphs, the players have been focused on making the best of what they have, and just having fun playing tennis and being together.
"We know when to be more serious about things, but we also just try to have a good time," Meghan said. "Even though COVID-19 has kind of taken away some of that, we've been doing lots of games and trying to have fun."
Leave a Comment
About the Contributor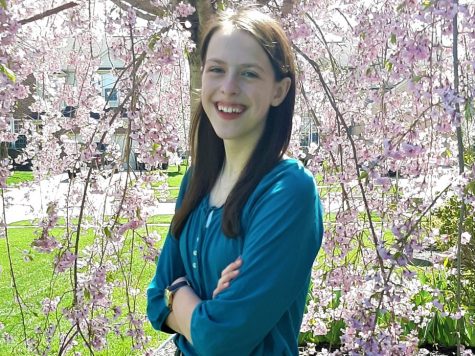 Lillian Snyder, Bleu Print Staff
Lily is a freshman at CHS, and the natural conclusion is that this is her first year writing for the Bleu Print. Besides writing, she enjoys playing the...