Bulldog Spotlight: Emma Smith
Senior Emma Smith is someone you will probably see in the halls of CHS spreading positivity. She can be found creating amazing art in the art hallway, crushing a workout in the weightroom, or simply just spreading a much-needed smile. 
Since moving to Chelsea back in elementary school, Smith has grown out of her shell and has become the person she is today: a positive, happy and bubbly person. 
"When I moved to Chelsea I was super shy, but I have learned that you don't make connections by staying conservative and within yourself," Smith said. "I want to make other people happy because I don't like seeing when others are down. I know everyone has their hard days so I try and do my part in hopes of making their day a little bit better." 
Along with being a positive person, Smith is also very creative and has used her love for art in many ways. She hopes to continue her passion whether that be just for personal enjoyment or for others.
"It feels like a stress reliever, and it just puts me into a different zone where I'm not really worried about anything else because I'm just focusing on that one thing," Smith said. "It might be something I'd pursue in the future if that's what the future holds for me." 
She has used her creative skills in art to help cope with the stresses that senior year tends to bring, especially with the added challenges of COVID-19. Like many of her peers, Smith has missed out on a lot of the normal activities and experiences that she would have liked to have in her last year of high school, such as school dances, supporting her friends and classmates at sporting events, and just seeing her friends in and out of school.
"We don't really have the same senior experience, and it kind of just feels like any other school year, rather than our senior year," Smith said.
With her senior year continuing to change, Smith still manages to find the positive. Because of the pandemic, she has been given more time to apply to colleges and prepare for her bright future. 
"I am going to go to college at Central Michigan University to pursue optometry," Smith said. "After college, I want to live near a beach like Traverse City. I still want that small-town feeling, but I love the atmosphere and the beauty that Michigan offers."
No matter if she is out helping people with their vision, creating amazing art pieces, or living the life in Traverse City, Smith leaves a positive and lasting impression on every person that she runs into.
Leave a Comment
About the Contributor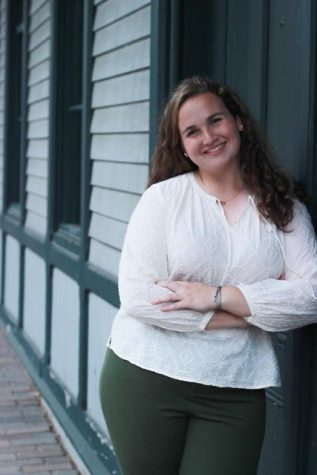 Katherine Thoms, Bleu Print Staff
Katherine is a senior at CHS, and this is her first year writing for The Bleu Print. Outside of The Bleu Print, she enjoys playing softball, working out,...