Bulldog Spotlight: Abbie Dobos
Senior Abbie Dobos is a creatively-oriented and faith-centered student who has been involved in yearbook, Company C, theater guild, SRSLY, WhyYouMatter, and Link Crew throughout her time as a CHS bulldog.
Her involvement in high school has braced the sum of her past 3 years at CHS, and upon reflection, she says she wishes she would have joined even more activities.
"Before COVID-19 I would have said that I would miss music and all those activities most," Dobos said. "Now, isolation has made me realize how much more I valued the relationships gained from those experiences than most of the experiences themselves."
Being accepting the closure is hard on anyone. Dobos copes with this idea by thinking of all the future opportunities that she could have and how those relationships she made in high school have prepared her for them. 
Dobos is looking forward to graduating as any other senior is; however, she is more focused on the idea of being able to impact others with her artistic talents and social skills than entertaining the freedom that comes with being an adult. 
"In high school, it can be hard to spread your impact among the same bubble of people you've been surrounded by your whole life," Dobos said. "I think my talents could be better used in a place that has more diversity."
Helping others is something that Dobos works hard to do. From traveling up north to work at a camp for the majority of the summer to participating in multiple SRSLY projects since middle school, her faith is what drives her to seek change. 
"Above all I want people to know the gospel," Dobos said. "I want to give people the second chance God gave me. The love of Christ is the structure of my life."
With that same idea of second chances, Dobos wants to emphasize to younger students the importance of not being too hard on yourself. Students tend to be very critical of their accomplishments while failing to realize that high school is, in essence, one big learning experience and not something that should be idolized. 
"High school is just a little blip in your life after all," Dobos said. "The friendships, values, and habits you establish in your 4 years are far more important and long-lasting than your immediate grades and accomplishments."
Whether she's advocating for mental health through WhyYouMatter, singing her heart out through Company C, or helping others and herself through her faith, Dobos can always be found expressively putting her heart and soul into a final product that serves to enhance the lives of others. 
Leave a Comment
About the Contributor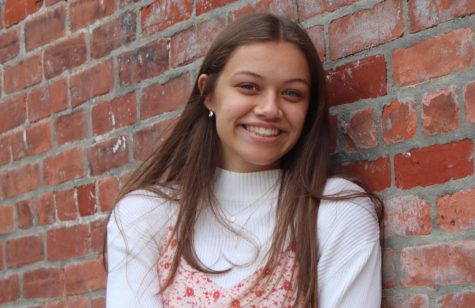 Haley Holm, Bleu Print Staff
Haley is a senior at CHS, and this is her first year writing for the Bleu Print. Outside of the Bleu Print, she is part of the cross country team and has...