Face Behind the Place: MaryAnne Thomas of The Find
The "quirky" and "eccentric" shop, The Find, as described by owner MaryAnne Thomas, has recently moved from the corner of town right to the center. On top of what has been a crazy year for all, Thomas underwent the extreme task of moving locations.
"It's been an interesting year," Thomas started with. "When we opened our store on Middle Street in June of 2019, I was open for nine months before COVID-19 closed us for three. I reopened for one month then closed for a month to move across town where we have been at our new location for about a month."
Pursuing a larger space amidst a pandemic is not for every shop owner but Thomas saw an opportunity and took it. 
"We're positive and hopeful for continued growth," Thomas said. "Hopefully we've seen the worst of the pandemic; the future is unfolding in front of us and I'm excited for what's to come."
The possibility of COVID-19 getting worse is a valid fear, and Thomas is planning accordingly. The Find was previously online and Thomas is thinking of going back to that if her shop has to close again. However, that comes with its own difficulties.
"My least favorite part of being an online store was the lack of interpersonal communication," Thomas explained. "Talking to the computer isn't as much fun as getting to know people, their story, their likes, and personalities." 
A physical store is a better fit for someone as hands-on as Thomas who loves to be involved in all aspects of her shop.
"I really enjoy all of the inner workings of the store, watching things move from point A to point B, stocking items, and watching them sell out the door," Thomas said. "Although my least favorite spot is, of course, dusting and vacuuming."
Thomas is beyond happy with her choice of bringing The Find to Chelsea as she loves the community and was excited to contribute to its downtown.
"Chelsea is a very awesome community with some of the greatest people," Thomas said. "It's a perfect community, we live here, we work here, we shop here. I couldn't think of a better spot."
For those who haven't had the pleasure of visiting The Find, Thomas breaks it down saying, "there's something for everyone."
"I am technically gifts and thrifts because most of the clothes are gently loved and most of the other items are brand new," Thomas explained. 
The Find carries a number of items ranging from specially produced soaps and lotions to books and records. Thomas is hoping to continue to grow her inventory and is excited to announce that a new children's toys section will be added. 
"Socks are currently our number one seller and the soon-to-be-introduced children's toys will be a big hit," Thomas said looking forward to the shop's future. 
Thomas hopes to offer advice to anyone looking to start something new saying, "whatever it is you desire to do, dream it and go for it. You can accomplish anything whether it's big or small, it doesn't matter as long as it is a passion from your heart."
Leave a Comment
About the Contributor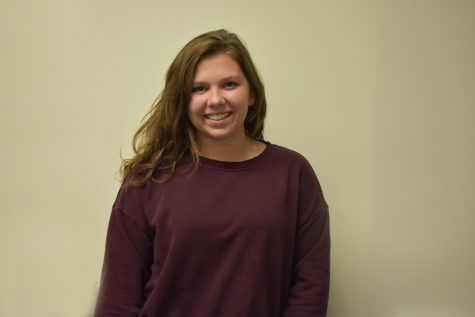 Kendall Spink, Bleu Print Staff
Kendall is a junior and this is her second year on Bleu Print. She is a yearbook editor, loves baking and photography. After being stuck in quarantine...