Mini Victorthon 2020 Signups Begin
Returning for its second year, Chelsea High School's annual Mini-Victorthon is an all night dance marathon held from midnight to 8am from March 20th to the 21st. Sign ups started on February 3rd. in order to participate a minimum $25 donation is required. The Mini-Victorthon is a fundraiser held to raise money to donate to pediatric patients and their families.
"I think it has two main benefits," Adam Schilt, the StuCo staff advisor and one of the main people behind a CHS Mini-Victorthon said. "One is that it provides students with a meaningful community service opportunity. It's a way that the students can give back to their community. And, it's also a way for them to get more involved in school events."
The Mini-Victorthon has many ways of helping the CHS community. It also helps the students of Chelsea High School to come together and work as a team. These kinds of charity opportunities can be a great way to unite students under the goal of helping other people.
"Sometimes I feel that in Chelsea we can all feel kind of segmented," Schilt said. "Like, everybody has their group, club, or sport so we don't always get to interact with everyone. What the Victorthon does, is it breaks people out of that mold and gets everyone doing one thing together for one purpose."
One of the overall intended outcomes of the Mini-Victorthon is the event's goal to make everyone involved feel good about their donation and the effort that they are putting in. This is why a key point in hosting the Mini-Victorthon is to actively inform and educate students on who is receiving the donation and why.
"Our motto is F.T.K., which is actually an acronym meaning: 'For the kids,'" Schilt said. "Our main goal is to make sure that we raise as much money as possible in order to benefit the families and the kids affected by various illnesses, accidents or injuries and need all types of rehabilitation." 
The Mini-Victorthon's goal of inspiring togetherness through charity is helped by the nature of the event itself. Each hour, the students come together and learn a part of a dance. At the very end of the event, those parts are meant to be brought together into one big dance performance.
"It definitely unified us under a common cause because we all learned the dances at the event and we got to do them together," Morgan Majeske ('21) said. "Afterwards all of the people who went talked about that night for awhile, even if we normally might not have spoken." 
 Do the strange timing of the Victorthon, many students have concerns about attending. No one wants to be crazy tired at an event where you can't sit, or sleep, and dancing is a requirement. The event does provide food and some caffeinated products. Another way they keep the energy up is by picking themes for every hour, and having specific activities picked out to keep everybody moving.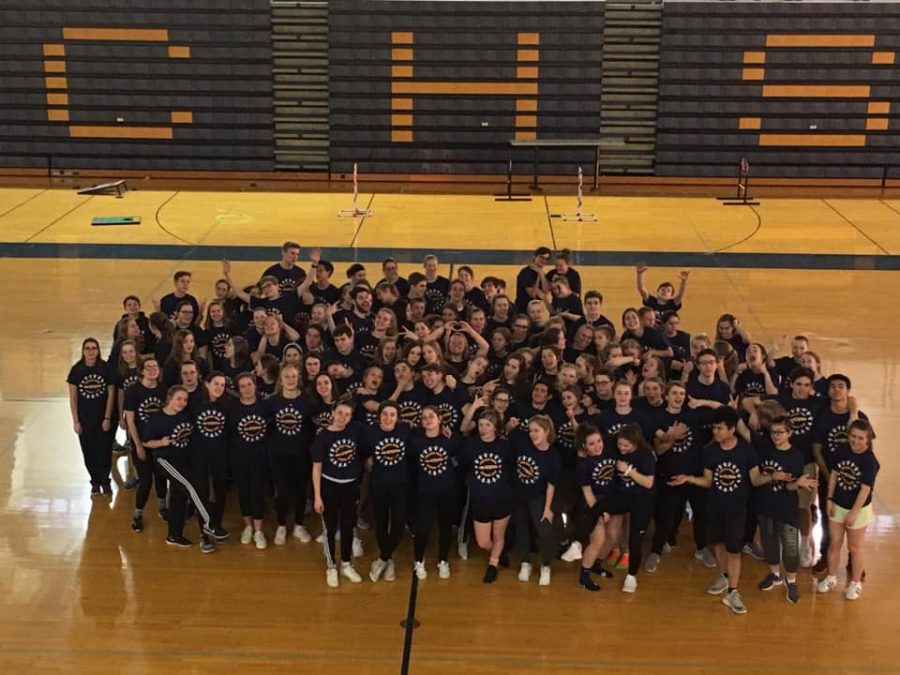 "Every hour has a theme," Schilt said. "Last year we started with luau, and we had a Limbo game, leis were passed out, and we had some Jimmy Buffett music and so there was dancing involved. Every hour we would have the group learn a part of dance taught by some members of Company C. They would teach the group one piece of the dance every hour and we would practice together, until we had all of the pieces and could perform it all at the end of the event."
After the dance marathon begins, there really can't be much division between people. In order to get the most out of the event, students have to talk to and interact with everyone there. At the Mini-Victothon, students are a whole team working together to reach one objective.
"So while our main goal is to support the kids," Schilt said. "I would say that it's definitely an added benefit that we can do something that brings our entire school together. It's not like we're just coming together because we want to look good. There's actually a real, tangible purpose behind it." 
Last year, at the first ever Chelsea High School Mini-Victorthon a team of high school students came together to do something great. They even ended up exceeding the event's original fundraising goal by $2,000.
"Last year, our goal was to raise $5,000," Schilt said. "Which in reality we thought was kind of a lofty goal, because we've never done anything like this before. However, we ended up raising $7,000, which was awesome. I have high hopes for this year's Victorthon, and I think we might even be able to beat that number" 
Not only does Mini-Victorthon give Chelsea High School students a chance to come together and work as a team, but it also gives everyone involved a sense of pride over how they were able to finish eight hours of dancing non-stop. It gives students an introduction to charity work, and the rewarding feeling of donating time, money, and effort to those who need it the most.