CHS' Fall Musical Xanadu Promises Fresh Take on the Classic Movie
Xanadu isn't a musical that most modern high school students have heard of, but it is likely to be recognized by their parents, who grew up in the 1980s. The movie version of Xanadu became a cult classic when it was released in August of 1980. Full of leg warmers, Australian accents, and a whole lot of roller skating, Xanadu is the musical version of this movie that the CHS Theatre Guild is working towards putting onstage in November. Confused yet? Don't be! Here's a simple overview of this 80's classic:
One of the nine Muses, Kira, travels to Earth undercover to inspire a struggling artist, named Sonny Malone, whose biggest dream is to open a roller disco. Against the rules, Kira and Sonny fall in love, and, after many trials, Kira gives up her immortality to live with Sonny forever.
Does this sound cheesy? That's because it's supposed to be. The musical is a spoof of the original. "[The] genre is called camp," director and choreographer of the show, Paige Conway, explained. "High schools don't get to work with [camp] too much. It's a complete 180 from Addams Family [last year's musical]. As actors, [they] are able to experience different styles."
Madi O'Hara, a senior at CHS who is playing Kira, also commented on the difference of Xanadu from previous shows. "I've never played a character like Kira before. When I'm in scenes with the Muses I'm very poised… And when I get to a scene with Jhon Govaere [CHS sophomore who plays Sonny], I'm playing Kira, but Australian Kira."
One of the biggest indicators that Xanadu is different from other shows is the fact that a portion of the cast (the Muses) is on roller skates. "[It's the] first time I've been able to do it with a group who's basically going to on skates the whole show," Conway said.

Putting on such a show doesn't come without its challenges, however. "Locationally, we're in a whole bunch of different places," Conway said. "There are costume changes that have to happen in this show that we didn't have to deal with in Addams. And then you add on the layers, like… actors have to know and sing the songs… in a recognizable way because everybody knows them."
The actors have their own challenges as well. "The roller skating was a challenge, [and] the Australian accent," O'Hara said.
In spite of the various issues Xanadu poses, the rehearsal process continues to flow smoothly. "One of my favorite parts is… doing one on one or two on one with Paige," O'Hara said. "She asks, 'What are your motives?' so we really get to why we're in this scene. It really makes me think… It's a challenge. But it's fun."
Leave a Comment
About the Writer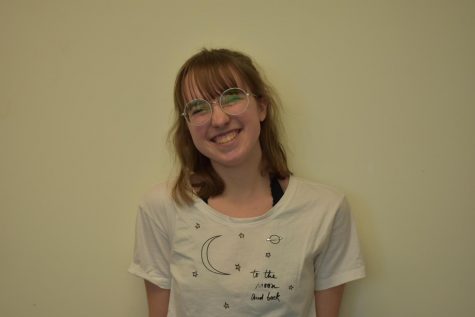 Katie Moore, Bleu Print Staff
Katie Moore is a sophomore and in her first year at Bleu Print. Apart from the Bleu Print, she is also involved in the CHS Theatre Guild. When not doing...