3 Quick & Easy Snacks for Singles
Hang on for a minute...we're trying to find some more stories you might like.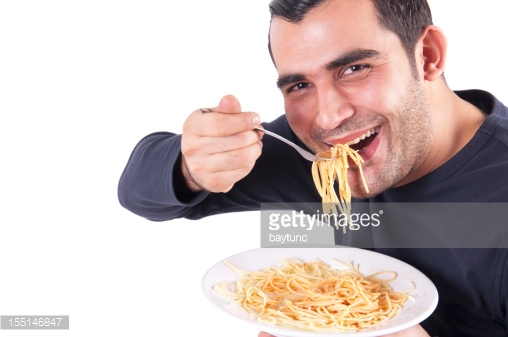 Ideas on how to--literally--spice up your Valentine's Day. All recipes serve 1.
You've navigated through the red tape – the red streamers, that is, the ones draping every single store you have been in since February 1. Menard's has more discount bags of candy hearts than it does bags of mulch. GiGi's Flower Shop is exclusively selling roses until St. Patrick's Day. It's kind of a nightmare.
You have seen way too many adorkable rom-com protagonists calling out some random person's name in the street. The vocabulary of that couple in your friend group has devolved into exclamations of "Aww, babe!" Overall, it's been a typical Valentine's Day leadup.
But you've made it home now. And you're hungry.
No "spaghetti for two" for you. Spaghetti sauce makes your winter-chapped lips sting, and you don't want stains on the couch ruining your Stranger Things binge. Much less another person. (Ew.)
So, what's a single person like you to do? You're not a chef, and Stranger Things is calling you. You have to make this quick. Luckily, you read The Bleu Print. We've got you covered. Here's three fun options that you can use to make your fancy Valentine's Day snack–because on the day of love, you've got to treat yourself.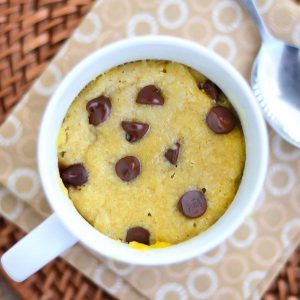 FOR THE PERPETUALLY TIRED ONE: CHOCOLATE CHIP COOKIE IN A MUG
It takes seven minutes. You know you have fifteen mugs in your cabinet. And chocolate chip cookies taste even more delicious when you have to dig them out with a spoon.
STUFF YOU NEED:
2 tablespoons butter
2 tbsp sugar
1 tbsp light brown sugar
1 egg
¼ teaspoon pure vanilla extract
⅓ cup all-purpose flour
¼ tsp baking powder
pinch of salt
2 tbsp chocolate chips
1 pretty mug
A microwave
A whisk
A toothpick, if you want to look like a professional baker person
NOTE: tbsp = tablespoon. tsp = teaspoon. DO NOT MIX THESE UP. Also, baking powder is not and never will be baking soda.
Prep: get all of this ish measured out beforehand. Measuring is boring, but it doesn't need to be chaotic as well. Get out your measuring tools – measuring cups, that clear glass red pitcher-thing, put away the ruler… okay, good.
Put the butter in the mug. Microwave the mug so that all the butter is melted. Note: don't let it bubble up, because that is scary. 15-30 secs.

Crack the egg and put the egg guts in the mug with the butter. Add the vanilla extract. Whisk it all up.

Add the dry stuff. Baking powder, flour, salt. Stir it all in, then keep stirring and add the chocolate chips. (P.S. you can make two tablespoons of chocolate chips go a long way. Just saying.)

Put the mug in the microwave again. You… did take it out after step one, right? Well, whatever, it's going back in. Cookie-it (ehehehehe! puns) for 1-2 minutes, or until a toothpick inserted into the center comes out clean. Now you can eat it.
Credit where credit is due… this recipe was found on PureWow. Talk to them if it backfires on you.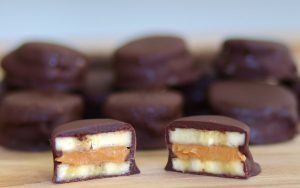 FOR THE ONE WITH A LITTLE BIT OF FORETHOUGHT: CHOCOLATE COVERED FROZEN BANANA AND PEANUT BUTTER BITES
Um, yeah. It's like every sandwich you asked your parent/guardian to make when you were a kid, but they never did because it was too unhealthy. But guess what? It's your day. You make the rules now. (Unless your parent/guardian says no. Then make something else.)
STUFF YOU NEED:
1 pack of baking chocolate, whichever kind you want (it melts easily)
2 bananas, or one, whatever, I don't pour your cereal
1 jar of peanut butter
A spoon for the peanut butter
A bowl for the chocolate (glass or ceramic – no plastic)
A microwave
A freezer
A cooking knife, because how else do you cut bananas
A cutting board
Gloves maybe?
A tray
Parchment paper
Prep: Make space. Open the peanut butter jar. Take the spoon, put it next to the peanut butter jar. Open the bag of chocolate, put it next to the bowl. Peel the bananas. Put the knife next to the bananas. Put parchment paper on the tray. Make sure you actually have everything you need – you don't want to make these then realize that you do not have a microwave.
Cut the bananas. Try to make them even, but hey, it's a banana, so do whatever you usually do.

Put them in pairs. (Gag, I know, but bear with me, this is gonna be good.)

Take the spoon and put it in the peanut butter. Take the peanut butter out and place it on ONE of each of the banana slices. (This is not rocket science.)

Take the non-peanut butter slices, and make banana sandwiches! Yeah! Cole Sprouse would be proud of you.

Now remember, these are

chocolate

peanut butter banana bites. Here's the chocolate part: take the bag of baking chocolate, and dump it out into the bowl.

I won't tell you how much, this is at your discretion, not mine.

Put the bowl in the microwave and melt that ish. Start with one minute, then mix. Another minute, then mix. Then thirty seconds until it looks pretty liquid. (NOTE: Chocolate can burn. Don't put it in for three minutes and leave it. You are smarter than that.)

Now take the bowl out. This is the 'gloves, maybe?' part. Take the banana sandwiches (bananwiches? sandnanas?) and COVER THEM IN CHOCOLATE. Heck frickin yeah.

Sorry, this is a school paper. Gotta tamper down strong language.

Are they covered? Good. Put them on the tray that's covered in parchment paper. Put that tray in the freezer.

Go to school. Come back. There they are, in all their glory. If your brother hasn't found them and eaten them yet.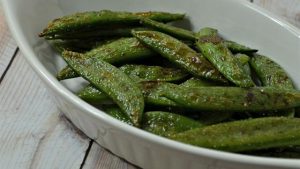 FOR THE ONE WHO WANTS TO HAVE A DANCE PARTY, AND IS MAYBE A LITTLE HEALTHY: TACO STYLE SUGAR SNAP PEAS
They taste like tacos. They crunch like chips. And they're not terrible for you. If you're in-season or about to be, or just don't feel like popcorn, this is a significantly greener alternative to that half-eaten bag of chips in the pantry.
STUFF YOU NEED
1 bag of sugar snap peas (still in shell – looks like edamame)
1 packet of taco seasoning
Cooking spray
This is really simple. Open the bag of sugar snap peas on one side. Put cooking spray in there. Make sure it's sticky but not too oily. Then dump the taco seasoning in, close, and shake to your heart's content. Pun absolutely intended.
There you have it. Fly, my pretties. And Happy Singles' Awareness Day.