To the Class of 2017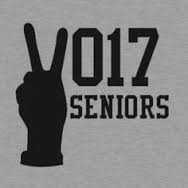 Hang on for a minute...we're trying to find some more stories you might like.
September of 2013 marked was an important time for those in the class of 2017 – we were finally starting high school! We had all grudgingly attended Freshman Orientation a week prior – which we later figured out was actually valuable – but there we were on the first day of school, high schoolers at last.
Some of us already had connections from music, sports, or other clubs that met over the summer, but no matter the level of previous involvement, the first day went a little bit different for all of us. Some were afraid of getting lost. Some wished they were still sleeping. Some pretended to be confident, while secretly hoping they wouldn't trip up the stairs. But, we all made it through the day in some way, shape, or form and have continued to survive high school since then.
The last three years of high school have been filled with many great memories for us seniors. First off, the class of 2017 has set a trend by proudly taking last place in more than our fair share of spirit weeks. We've attended four Homecoming dances, three Winter Carnivals, and too many Friday night football games to count. Some of us made it to swim meets or soccer games, cheered on the field hockey team, joined the student section or the pep band at basketball games, and rooted for Chelsea in hockey games, volleyball tournaments, or double headers. We joined the student section or the marching band at Ford Field. We also stood across the street from Jet's Pizza hoping to hear a bit of the Rusted Root concert. And, let's not forget that we were the first class to get iPads for all four years!
Some old friends moved away, and some new ones were warmly welcomed, but now, here we are together, seniors. The majority of us have endured the last twelve years of our education together and are now heading into our thirteenth and final year. We are heading into a big part of our lives. Some of us will apply for college, and some will enter the military or join the workforce, but wherever we choose to go, the future holds great things for the Class of 2017.
As our final months in Chelsea High School are dwindling away, I encourage all of you to reflect. Reflect upon what has made your experience great. who has influenced you – for better or for worse? How will you carry all that you have learned outside of academics through the rest of your life? In thinking about these things, I hope that most of you will come to realize that we owe a lot of thank you's to the Chelsea School District.
Thank you to our teachers, to the elementary school teachers who taught us how to read, write, get along with others, and find the correct bus, to the middle school teachers who taught us the world does not revolve around ourselves, and to the high school teachers who have shaped us into the people we are today and who work every day to equip us with the skills that we will use for the rest of our lives.
Thank you to our coaches. You have pushed us beyond where we thought our limits were and for making us improve everyday.
Thank you to our bus drivers, who transferred a great deal of us to and from school for many years and dealt with us drawing on fogged up windows and refusing to stay in our seats.
Thank you to our janitors. We're messy kids…. Thanks for keeping us healthy and our schools clean every year!
Thank you to our lunchroom workers for blessing us with nacho day or bosco stick day when we were little and providing us with French fries now that we're older.
Thank you to our administrators and school board, the people who make the rules and keep us safe everyday!
Thank you to our office workers. You were our saviors when you handed us the lunch box or coat we forgot in elementary school… or high school….
There are too many people who have shaped us into who we are today to mention in this short article, for the list could go on and on. But, I encourage the rest of my class to take a step back from our busy lives filled with school, sports, clubs, music, and college applications, and think about who you need to thank.