Kira Frahm's Spirit Week Reflections
Hang on for a minute...we're trying to find some more stories you might like.
I have only witnessed two CHS Homecoming Spirit Weeks so far, but compared to last year, this one seemed less… spirited. As a student body, we should be happy that we have the opportunity to come to a safe building to see friends and develop life skills. Spirit week should be a fun time to prepare for an enjoyable weekend of football, games, and dancing. However, as I walked through the halls on homecoming week, it seemed as if it were no more than a normal week for most. I wanted to explore that, so I kept record of my day-to-day experiences and observations.
Monday was exhausting. Maybe it was the academic activities or the cool and comfy pajamas everybody was wearing, but it almost seemed like everybody wanted or needed to get rid of some circles under their eyes! Personally, I wanted to show how hype I was for the week, but not to the point of getting decked out in my pineapple PJs (side note: always wear cute pajamas to bed– you never know who you are going to meet in your dreams).
"
Always wear cute pajamas to bed– you never know who you are going to meet in your dreams."
— Kira Frahm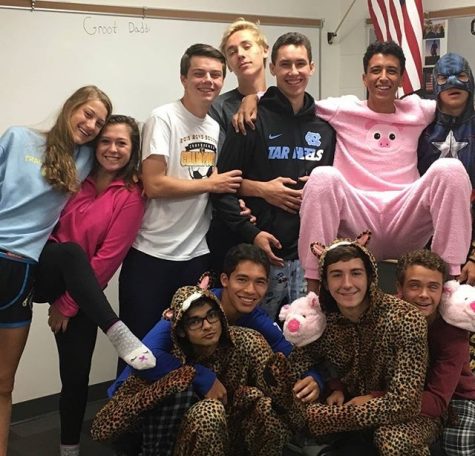 Tuesday was hard to find clothes for because it was Salad Dressing Day. As a sophomore, AKA ranch dressing, I didn't want to wear actual farmer clothing to school. I think that is an interesting stereotype. I just wore white because ranch itself is white. It still counted. Despite my overall sense of homecoming-related excitement and general school spirit, I noticed that even I didn't really want to participate in helping the sophomores rack up Spirit Week points. As for seniors, the Greek dressing of the school, a handful got away with showing their bare shoulders in Greek togas. I recognized that coming up with a good outfit for this particular theme was difficult for all of the grades. Maybe this was why not many people showed their spirit.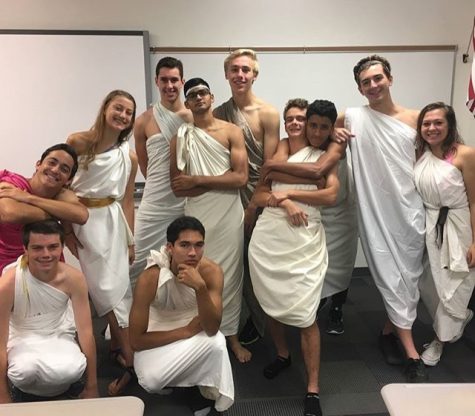 Wednesday seemed like a grey—I mean, great—day for spirits to be soaring. More people were counted for wearing groutfits, or all-grey outfits. I predicted that many people would wear grey because it is an easy color to find in closets, and I was right. The glum grey clouds loo
med over us. Personally, the color grey reminds me of a sad, rainy day with grey skies. It seemed likethat feeling was in the back of people's minds.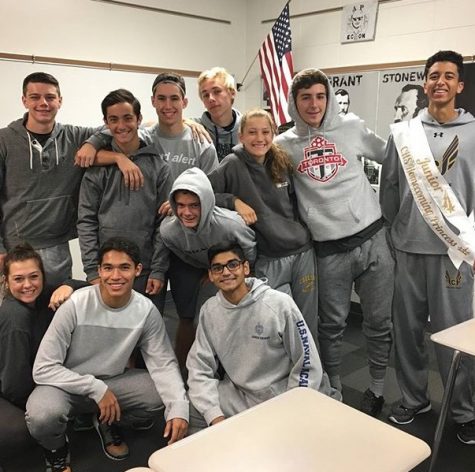 Many people decided to participate by dressing in-line with the theme on Thursday, plaid day. But was our excitement square on time? I noticed more people didn't want to participate straight out of a grey day. Do not many people usually wear plaid? Or did our spirits seem weeks away? Was it the anticipation of Friday that led a significant portion of the student body t
o steer away from donning plaid? I know I tried to be in-line by wearing my only plaid top. Overall, about half of the people I saw dressed up, and the other half didn't– it was a plai(d)n day.
The greatly anticipated Homecoming Friday soon arrived. Many people approached the classic blue-and-gold theme by sporting jerseys, joggers, and other Chelsea athletic attire. Despite this, people seemed pretty blue throughout the first half of the school day. With difficulty, our student body tried to stay gold and power through until the pep rally. Shortened hours certainly helped with that. When we were finally dismissed to the gym, the pep rally ensued. Band spirits were upbeat. The other students were riled up, but it took some games and convincing to fully encourage them. It was fun, but it would be more enjoyable if the mood of the students was better. For me, I wanted to be as golden as possible that day because of the You Matter campaign. Maybe that was why our spirits seemed heavy—because of the collective loss we've suffered as a community this past year. I know that was on the back of my mind, and I suspect it may have been troubling others, too. Still, we persevered together and united for an enjoyable pep rally, complete with a wild water bottle flipping competition and an onion eating contest.
"
I think it was something deeper– something within each and every one of us."
— Kira Frahm
Maybe next year, Spirit Week will be more spirited. I don't think it was the creative choices student council picked, or the outfits we wore, or even our curricular activities that kept it from seeming more cheery and gold. I think it was something deeper– something within each and every one of us. Maybe next year will be more hype.